Imagine yourself in an intimate place, absorbing the glorious sound of music or laughing to the
comedian's antics while surrounded by the inspiring colors and forms of works of art!
The Heinz W. Otto Gallery has 12-foot ceilings, superb acoustics, and a seating capacity of 100.
"JaZZ in the Gallery"
Lauren Hooker & Friends
POSTPONED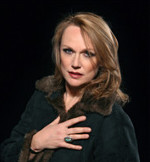 We have had to postpone Lauren Hooker's concert, originally scheduled for January 31. We hope to schedule Ms. Hooker for a later date.
Special Event
Third Annual Watchung Hills Regional High School Video Art Showcase
Friday, February 6, 8 p.m.
The Watchung Arts Center and Watchung Hills Regional High School present a night of short films by WHRHS Video Production Students.
Come watch the short movie art created by these talented writers and directors. Genres include Drama, Comedy, and Horror. The young moviemakers range in ages from 14-18 and have taken Mr. Iacovone's Video Production classes at WHRHS. The student skills vary from beginner to advanced.
Please join us for a night of creative entertainment and meet the student filmmakers in a reception following the screenings. Mr. Rocco Iacovone, teacher of Video Production at Watchung Hills Regional High School, will be your host.
Movies start at 8 p.m. Refreshments at 9:30 p.m. Limited seating available. Tickets can be purchased online at Eventbrite, adults $15, students $8.
Improv
The Improvables
Please note: the date for the February Improvables performance has changed.
Family Improv: Saturday, February 7, 8 p.m.
Adult Improv: Saturday, March 14, 8 p.m.
Family Improv: Saturday, April 25, 8 p.m.
Adult Improv: Saturday, May 16, 8 p.m.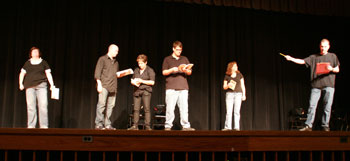 The Improvables have been providing the Center's audiences with zany, raucous one-of-a-kind and never-to-be-repeated humor since 2002. Each show features a series of games in which the performers act out various scenes, based on audience suggestions, without advanced knowledge of the topics. Come ready to laugh at the antics of this wonderful improvisational troupe of actors including Randy Schweriner, David Kritz, Michele Kerekes, and Brandon Lericos of Bridgewater, Phil Hochman of Plainfield, Roberta Maher of Mt. Arlington and Mike Griffin of Hillsborough.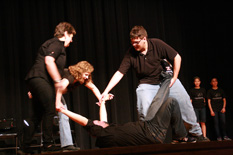 Family-friendly shows are suitable for children 10 and older, while adult shows are "R" rated.
Tickets to all performances (adult and family-friendly) are $8. You may purchase tickets securely through Eventbrite. For more information call 908-753-0190 or e-mail us.
"JaZZ in the Gallery"
ImpresaRIO Series: Rio Clemente
Friday,March 6, 8 p.m.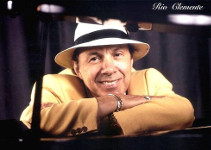 Rio Clemente draws the audience up in a musical embrace and then takes them on an extraordinary journey of fanciful melodies and scintillating rhythms. As a master pianist, educator, composer, arranger and recording artist, Clemente mixes a strong classical background with a rich knowledge of jazz history, and then adds an amazing sense of creativity and interpretation. The result is a smorgasbord of music that is different from others, and nearly always produces a standing ovation and cries for "more." With his passionate musicality, impressive technique and nimble facility at the keyboard, Rio brings something very special and decidedly unequalled to his audience.
Rio was a child prodigy who received a BMI scholarship for musical theatre and then continued his education at the Julliard School of Music. He went from Julliard to Nashville, where he spent two years as a performer and composer, making appearances at the Grand Ole Opry. After several television appearances, Rio advanced professionally to playing at several distinguished concert halls and festivals, including Carnegie Hall, Avery Fisher Hall at Lincoln Center, Manhattan's famous Birdland and the Oak Room at the Algonquin Hotel, as well as the Newport and JVC Jazz Festivals, and a memorable appearance at the White House. He regularly appears with groups such as The Morris Choral Society and Orchestra and at jazz venues from Manhattan to Cape Cod and from Florida to California. He has composed three masses and three musicals of which his "Dobdinob" has been published and performed around the country. He has recorded for well-known labels and has published eight CDs under his own label, Etnemelc Music Productions.
A native of Morristown, NJ, Clemente is New Jersey's own jewel of the jazz world. He is a member of the Morristown Hall of Fame, was named by the NJ Council of the Arts as an Outstanding Professional of the Year, and recognized as one of the "Top 40 New Jerseyans" by the New Jersey Monthly.
He is a proud member of the United States Coast Guard Auxiliary at Lake Hopatcong, NJ.
Tickets are $18 in advance, $22 ($20 for WAC members, $10 for students) at the door. You may purchase tickets securely through Eventbrite. For more information, please call 908-753-0190 or e-mail us.
"Classicals at the Circle"
"Russian Nights, Romantic Nocturnes"
Marty Steinberg and Karen Delavan
Saturday, March 21, 8 p.m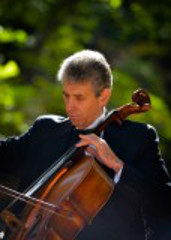 Celebrating the start of spring, cellist Marty Steinberg and pianist Karen Delavan play warm, romantic works by Tchaikovsky, Arensky, Glazunov, Borodin and Rachmaninoff. Dessert reception follows the performance.
Cellist Martin Steinberg has performed in such venues as Carnegie Hall, Avery Fisher Hall, Alice Tully Hall, Symphony Space, the Kennedy Center, NJPAC and the New York Times publisherís suite. Since 2005, he has been principal cellist with the New Jersey Intergenerational Orchestra, where he is also the cello and chamber music coach. He is the former principal cellist of the Baroque Orchestra of New Jersey and the Metropolitan Orchestra of West Orange, NJ.
He has participated in chamber music workshops in France, California, Vermont, Lincoln Center and New Jersey and has been coached by Ida Kavafian, Daniel Phillips, Robert Dodson, Joel Berman and Yehuda Hanani.
Mr. Steinberg studied with David Guggenheim of Philadelphia and has been a student of the pedagogue Irene Sharp since 2000. He also teaches in his studio in South Orange, NJ.
He is founder of Romanza Music, which performs chamber music at private parties in the New York, New Jersey and Pennsylvania areas. His cello, La Sophia, made in 2003 by Andrew Carruthers of Santa Rosa, Calif., was modeled after a 17th-century design by the Ruggieri family of Cremona.
Mr. Steinberg is also a journalist, and has interviewed musicians including Yo-Yo Ma, Joshua Bell, Hilary Hahn, Mstislav Rostropovich, Alan Gilbert, Lorin Maazel, Kurt Masur and Marta Casals Istomin.
Karen Linstedt Delavan, coach and accompanist, has held Music Staff positions with Santa Fe Opera, Glimmerglass Opera, Sarasota Opera, Boston Lyric Opera, Spoleto Festival (Charleston), Tulsa Opera, DiCapo Opera, Orchestra of St. Lukeís, and American Opera Projects. For three seasons, she was the Director of the Studio Artist Program of the Sarasota Opera, and the Music Director for the Glimmerglass Opera Tour for two years.
A graduate of Interlochen Arts Academy, New England Conservatory, and The Juilliard School, she served a two-year fellowship with the Juilliard Opera Center, and has served on the faculties of the Hartt School, and the C.W. Post campus of Long Island University. Ms. Delavanís past performances include master classes with distinguished artists including Elly Ameling, Hermann Prey, Hakan Hagegard, Hans Hotter, YoYo Ma, Roger Vignoles, and Jonathan Miller. She performs as a recital accompanist in the New York and New Jersey area, and past performances include recitals at Westminster Choir College, Weill Recital Hall, Alice Tully Hall, The Juilliard School, The Morgan Library, the War Memorial in Trenton, NJ, and the Harlem School of the Arts, and Farleigh Dickinson University for Opera At Florham.
Karen resides with her husband and three kids in Madison, NJ.
Tickets are $16 in advance, $20 ($18 WAC Members, $10 students )at the door. You may purchase tickets securely through Eventbrite. For more information call 908-753-0190 or e-mail us.
Enjoy videos of some of the past season's performances at the WAC
"JaZZ in the Gallery"
The Three Jazz Divas

Lauren Hooker sings "Don't Get Around Much Anymore"
Saturday, Feb 1
"Classicals at the Circle"
Sophia Agranovich
Saturday, May 31.
"JaZZ in the Gallery"
The Three Jazz Divas

Carrie Jackson sings "The Nearness of You"
Saturday, Feb 1
"JaZZ in the Gallery"
ImpresaRIO Series: Rio Clemente & Guest, Warren Chiasson
Friday, June 6.