Imagine yourself in an intimate place, absorbing the glorious sound of music or laughing to the
comedian's antics while surrounded by the inspiring colors and forms of works of art!
The Heinz W. Otto Gallery has 12-foot ceilings, superb acoustics, and a seating capacity of 100.
"JaZZ in the Gallery"
Trio Jazz - Gene Bertoncini, Ed Finkel, Michael Moore
Saturday, December 5, 8 p.m.
Following a sold-out performance in March 2015,tenor saxophonist Ed Finkel returns to the WAC with guitarist Gene Bertoncini and Michael Moore on bass.
A dessert reception will follow the performance.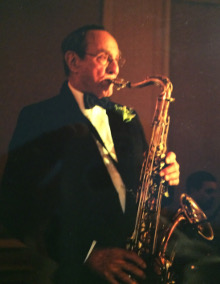 Watchung resident Ed Finkel played in big bands as a young man, touring throughout the eastern US and on an ocean voyage aboard the Queen Elizabeth II, with Helen O'Connell and the Jimmy Dorsey Orchestra, as well as performing with the Vaughn Monroe and Sammy Kaye orchestras and others, before embarking on a career as a structural engineer.
For more than 25 years, Ed was a member of The Jazz @Noon Band, the longest running jazz institution in New York City, launched by Les Lieber, circa 1965, for businessmen-musicians. Gathering every Friday this event featured weekly visits by renowned Jazz artists from all musical eras, including: Benny Goodman, Stan Getz, Zoot Sims, Dick Hyman, Joe Wilder, Doc Cheatham, Harry Allen, Wycliffe Gordon, Anat Cohen, Ken Peplowski, Claudio Roditi, and Paquito D'Rivera. Ed has also performed with pianists Dave McKenna at the Copley Plaza in Boston and in Hyannis, and Dorothy Donegan at Fat Tuesday's and the Fortune Garden Pavilion in New York City.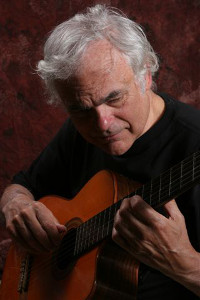 Gene Bertoncini is one of the pre-eminent jazz guitarists' active today. An eloquent and versatile improviser, Mr. Bertoncini has been heard with an extraordinary range of jazz greats, including performances and recordings with Benny Goodman, Buddy Rich, Wayne Shorter, Hubert Laws, and Paul Desmond among others, as well as such distinguished singers as Tony Bennett, Lena Home, Nancy Wilson, Vic Damone, and Eydie Gorme.
Bertoncini honed his professional chops as a member of the Tonight Show band during Johnny Carson's tenure, and he has worked with composers and arrangers such as Lalo Schifrin and Michael Legrand and has performed with the Metropolitan Opera Orchestra.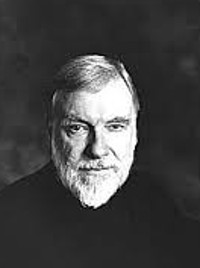 Michael Moore has given the bass a new position of prominence in the small group setting. As a leader of his own duo and trio, he brings to these settings his unique musicality and strong melodic sense, featuring the bass as a solo instrument. Much in demand by instrumentalists and singers worldwide, Michael devotes much of his time to his ensembles. His work has included recordings or live performances with Marian McPartland, Bill Evans, Stan Getz, Chet Baker, Gary Burton, Jim Hall, Zoot Sims, Jimmy Rowles, Gene Bertoncini, Jack Wilkens, Benny Goodman, Ruby Braff, Jimmy Raney, Freddie Hubbard, Lee Konitz, Tony Bennett, John Scofield, Bob Brookmeyer and Gil Evans among others. From 2001 until 2012, Michael was part of the Dave Brubeck Quartet.
As an adjunct professor at William Patterson University and Long Island University, he gives an all-encompassing educational experience to a generation of young bass players, with an emphasis on a melodic approach on an instrument once primarily regarded as a timekeeper.
Tickets are $18 in advance, $22 ($20 for WAC members, $10 for students) at the door. You may purchase tickets securely through Eventbrite. For more information, please call 908-753-0190 or e-mail us.
'50's Rock
RAVE ON!
Saturday, January 30, 2016, 8 p.m.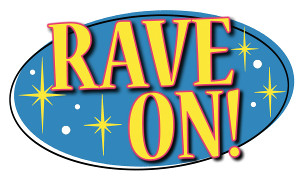 "All the flat top cats and dungaree dolls" are headed to the Watchung Arts Center for an evening of 1950's rock-n-roll
RAVE ON! is a band that features the music of Buddy Holly and Roy Orbison, playing hits like "That'll Be The Day,", "Not Fade Away," "Peggy Sue," "Pretty Woman," "Crying," and "Only The Lonely," along with other classic, early rock-n-roll songs.
This is the music that paved the way for rock-n-roll and influenced The Beatles, The Rolling Stones, Bob Dylan, Bruce Springsteen and countless other artists.
RAVE ON! is living proof that Buddy Holly, Roy Orbison and the music of early rock-n-roll is timeless and continues to appeal to people of all ages.
RAVE ON!'s show is always a crowd pleaser.
RAVE ON!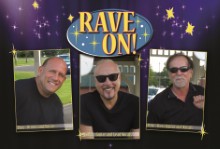 Chris Roselle - Guitar & Lead Vocals
Pete Farley - Bass Guitar & Background Vocals
Don Guinta - Drums & Background Vocals
Visit www.RaveOnBand.com
Tickets are $16 in advance, $20 ($18 for WAC members, $10 for students) at the door. You may purchase tickets securely through Eventbrite. For more information call 908-753-0190 or e-mail us.
"JaZZ in the Gallery"
Marty Eigen's Beacon Hill Jazz Band
12th Annual Holiday Concert
Saturday, December 12, 8 p.m.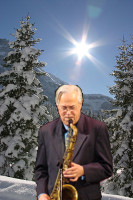 The Watchung Arts Center's "Jazz in the Gallery" series is proud to present Marty Eigen's Beacon Hill Jazz Band performing its 12th Annual Holiday Concert. This year's concert will include holiday music from Tchaikovsky to Charlie Brown and everything in between.
Band members include vocalist Nancy Nelson, Marty Eigen on tenor sax, flute and clarinet, Bill Ash on trumpet, trombone and flugelhorn, Fred Fischer on piano and vocals, guitarist Flip Peters, bassist Ron Naspo, and Gordon Lane on drums. This performance, in the our intimate Heinz W. Otto Gallery, provides an opportunity to experience this outstanding band "up close and personal".
Following the concert, there will be a "Meet the Musician's" Reception.
Make your reservations early, so as not to miss the best concert of the holiday season.
Tickets are $18 in advance, $22 ($20 for WAC members, $10 for students) at the door. You may purchase tickets securely through Eventbrite. For more information, please call 908-753-0190 or e-mail us.
"JaZZ in the Gallery"
Lauren Hooker & Friends
Saturday, January 16, 8 p.m.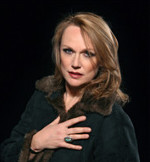 Lauren Hooker previously appeared at the Arts Center's sold-out concert, "Three Jazz Divas", in February, 2014.
Ms. Hooker will sing selections from her newly released CD, "All For You – My Heart and Soul", and play piano and Native American flute. She will be joined by Dave Rimelis on violin and guitar; Mike Richmond on bass; Jonathan Luks on tap and percussion; and special guest Marty Eigen on woodwinds.
Originally from Plainfield, NJ, Lauren Hooker, a critically acclaimed and award-winning NYC-based recording and performing artist, helps to continue the tradition of innovative jazz performance. Critics from across the nation and abroad have likened her favorably to Dianne Reeves, Nancy Wilson, Anita O'Day, Sarah Vaughan and Dinah Washington, but with a style uniquely her own and "a voice with its own distinctive character" (AllAboutJazzUK).
Awarded Honorable Mention as one of AllAboutJazz-NY's selected Best Vocal CDs in '07 for her debut CD: "Right Where I Belong", she is also included in Royal Stokes' List of Best Jazz Vocal CDs of '10 for "Life of the Music" (Miles High Records), which includes mostly original material, in addition to winning a Jazz Twirlie Award in '11 for Jazz Vocals.
Ms. Hooker's arrangements of jazz standards and original compositions include lyricist credits to instrumental standards by Thelonius Monk, Fats Waller, Charles Mingus, Mal Waldron (whom she recorded with in the early 90's), Wayne Shorter and Vic Juris.
Lauren appears regularly as a solo pianist/vocalist, as well as a singer leading her own quartet. She has been featured on a number of television shows including NJN Public Television's State of the Arts: "Abstractions in Music, Art and Theater" filmed live at the Cape May Jazz Festival and on BCAT "Brooklyn Sings, Brooklyn Swings Series" shown throughout Manhattan's five boroughs. She has been featured on numerous radio stations across the country and abroad and was the guest artist on WBGO's Singers Unlimited with Michael Bourne on Nov 30, 2014. She has performed and/or recorded with some of the best in the business including Rufus Reid, Allen Farnham, Mike Richmond, Vic Juris, Bucky Pizzarelli, Reggie Workman and Billy Holiday's former pianist, Mal Waldron.
Lauren also performs regularly via her Arts in Education Company which she founded in 1993; Musical Legends, LLC: teaching cultures through the arts and arts through the cultures, which includes a Jazz 4 Kids Show featured twice in WBGO's Children's Concert Series. The Cathedral of St John the Divine in NYC recently commissioned Ms. Hooker to write and perform a theater piece based on the Phoenix in honor of their critically acclaimed "Phoenix Exhibit".
A dessert reception will follow the concert, providing an opportunity to meet the performers.
Tickets are $16 in advance, $20 ($18 for WAC members, $10 for students) at the door. You may purchase tickets securely through Eventbrite. For more information call 908-753-0190 or e-mail us.