Imagine yourself in an intimate place, absorbing the glorious sound of music or laughing to the
comedian's antics while surrounded by the inspiring colors and forms of works of art!
The Upper Gallery has 12-foot ceilings, superb acoustics, and a seating capacity of 100.
Watchung History Day Performance
David Kincaid
Saturday, September 27, 8 p.m.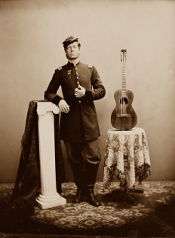 David Kincaid
Recognized as both musician and historian, David Kincaid presents a compelling combination of the songs and history of the Irish in the American Civil War. Kincaid's performance will mark the conclusion of Watchung History Day festivities.
Years of research, recording and performing experience have been translated into two critically acclaimed albums; "THE IRISH VOLUNTEER" and "THE IRISH-AMERICAN'S SONG," collections of authentic Irish songs of both the Union and the Confederacy. Having performed at a variety of Irish/Celtic festivals, historical sites and folk music venues across the US, as well as European tours, David's music has also been used in several documentary films, and he was engaged as a consultant and performer in the Hollywood Civil War film release "Gods and Generals." David Kincaid (lead vocals, octave mandolin), performs in period clothing, presenting an engaging, all-ages program appealing to both history buff and the Irish/Celtic music fan alike.
Tickets are $16 in advance, $20 ($18 for WAC members, $10 for students) at the door. You may purchase tickets securely through Eventbrite. For more information call 908-753-0190 or e-mail us.
Featured Performance
"Comedy Plus A Side Order of Thinking"
an Offsides NJ Production
Saturday, October 18, 8 p.m.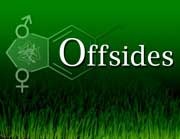 Offsides NJ Productions
A comedian and three playwrights are joining forces to present "Comedy Plus A Side Order of Thinking," a variety show of original work.
The evening will include a performance by Joanne Filan, a seasoned observational comedian, and three plays: The Code of Silence by Poet on Watch, Lockdown by Jennifer DiOrio, and Catladies: The Musical That Makes Lawyers Purr by Sarah Dubinsky. A dessert reception will follow the performance. Reviewers and theater representatives are invited to attend. This show is not innocent enough for children.
Filan's "Upstream of Consciousness" comedy, described as "strong enough for a man but pH balanced for a woman," complements the three plays which explore love of all kinds, lgbtq issues, social media, and other topics.
An Offsides NJ Production by Jennifer DiOrio, the show is directed by Melanie Heit Rivellese, with Sherr Rase serving as Assistant Director and Stage Manager. Cast members include Melanie Heit Rivellese, Sherr Rase, Deana Loria, Kyle Schickner (of FenceSitter Films), Lara McDavit, Michael Valentine, Claude Aubourg, and Miriam Tab.
About Joanne Filan: After growing up in New Jersey (but refusing to die there), Joanne has made her way around the comedy club scene and around the comedy country. Performing at well-known places like The Friars Club, Gotham Comedy Club, Caroline's, New York Comedy Club, The Laugh Factory and more, not to mention being a fixture in the traveling show "The Broads of Broadway," she is well known in the comedy world. She even reaches the masses through her television and media appearances, including Here TV's Hot Gay Comics, Comedy Time TV, and in "Comics Favorite Jokes" in the NY Post. Joanne has taken part in festivals and competitions as well, from The New York Underground Comedy Festival and the Women in Comedy Festival in Boston to this year's The Ladies of Laughter Competition. To find out where she is next, go to www.upstreamcomedy.com and follow the stream.
About Poet on Watch: Poet On Watch is a southern-rooted performance poet, director, and screenwriter. She has worked with theater companies, universities, cultural organizations, social institutions, and individual artists across North America, North Africa, Canada, and Europe through her commissioned writing programs. Poet On Watch has been published in two anthologies, Mother Tongue and Mighty Real: An Anthology Of African-American Same Gender Loving Writing. She is also the author of two collections of poetry entitled Sageburner Simple Pleasure and Poet On Watch published by Freeverse Publishing. Check out http://www.poetonwatch.com for more information.
About Jen DiOrio: A content but curious native of New Jersey, Jen DiOrio is the writer, producer, and sole proprietor at Offsides NJ Productions (founded in 2008). In 2010, she self-produced Offsides, her full-length tragicomedy directed by NY-based Alberto Bonilla at the Watchung Arts Center in New Jersey, where she also produced a 10-minute play showcase featuring the scripts of her writing group (2013). LA-based Kyle Schickner of FenceSitter Films will produce Jen's upcoming web series, based on her 30-minute triptych also featured at the showcase. A member of the Dramatists Guild and Women Who Write, Jen will be a guest speaker at the 4th Annual Women's Writing Retreat at the Kirkridge Retreat Center in September 2014. For more information on Jen's productions, go to http://offsidesnjproductions.wordpress.com.
About Sarah Dubinsky: Sarah loves her pussycats and any other furred creatures she can pet. Her songs, poems, and stories glitter like pyrite and have the depth of a puddle. Surprisingly, Sarah has been rejected by eleven of the very best Master of Fine Arts in Poetry programs in the English speaking world. Fortunately, she already had her law degree at the time she applied. Sarah once dreamed of being a lawyer. Having attained her goal, Sarah then dreamed of being a writer. Having now attained that goal, Sarah dreams of more cats than can possibly fit on the internet. And sometimes those cats dream of her. To meow with Sarah, go to http://www.catladiesthemusical.com.

Tickets are $16 in advance, $20 ($18 for WAC members, $10 for students) at the door. You may purchase tickets securely through Eventbrite. For more information call 908-753-0190 or e-mail us.
Improv
The Improvables
Please note: the date for the February Improvables performance has changed.
Adult Improv: Saturday, October 11, 8 p.m.
Family Improv: Saturday, November 15, 8 p.m.
Adult Improv: Saturday, January 10, 8 p.m.
Family Improv: Saturday, February 7, 8 p.m.
Adult Improv: Saturday, March 14, 8 p.m.
Family Improv: Saturday, April 25, 8 p.m.
Adult Improv: Saturday, May 16, 8 p.m.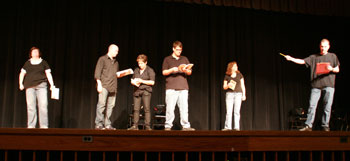 The Improvables have been providing the Center's audiences with zany, raucous one-of-a-kind and never-to-be-repeated humor since 2002. Each show features a series of games in which the performers act out various scenes, based on audience suggestions, without advanced knowledge of the topics. Come ready to laugh at the antics of this wonderful improvisational troupe of actors including Randy Schweriner, David Kritz, Michele Kerekes, and Brandon Lericos of Bridgewater, Phil Hochman of Plainfield, Roberta Maher of Mt. Arlington and Mike Griffin of Hillsborough.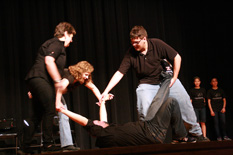 Family-friendly shows are suitable for children 10 and older, while adult shows are "R" rated.
Tickets to all performances (adult and family-friendly) are $8. You may purchase tickets securely through Eventbrite. For more information call 908-753-0190 or e-mail us.
JaZZ in the Gallery

Autumn Serenade featuring Marty Eigen's Beacon Hill Jazz Band,
with opening act, pianist Bob Acquino
Saturday, October 25, 8 p.m.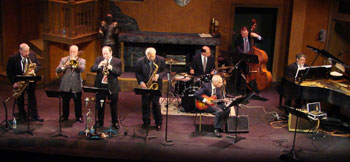 Marty Eigen's Beacon Hill Jazz Band will begin its 11th season at the Watchung Arts Center with jazz pianist, composer and arranger Bob Aquino opening the show on solo piano.
Bob is former chairman of Long Island University's Brooklyn Campus jazz studies program. Among his credits are the score to the Cannes Film Festival prize-winning short film Ursula, first-prize winner of the Abraham Frost competition for his composition Three Dances for Seven Woodwinds. He has performed the theme music for the sitcom Strangers, as well as several commercials . He now focuses on solo piano with two recent concerts at Steinway Hall in New York City. This will be his premier performance in New Jersey.
Featuring some of the best musicians in the area, the Beacon Hill Jazz Band has been a perennial Watchung Arts Center favorite, appearing to rave reviews and always with a musical surprise in store. Catch them on stage and off as you mingle with this energetic group during the "Meet-the-Musicians" reception following the performance.
Tickets are $18 in advance, $22 ($20 for WAC members, $10 for students) at the door. You may purchase tickets securely through Eventbrite. For more information call 908-753-0190 or e-mail us.
Enjoy videos of some of the past season's performances at the WAC
"JaZZ in the Gallery"
The Three Jazz Divas

Lauren Hooker sings "Don't Get Around Much Anymore"
Saturday, Feb 1
"Classicals at the Circle"
Sophia Agranovich
Saturday, May 31.
"JaZZ in the Gallery"
The Three Jazz Divas

Carrie Jackson sings "The Nearness of You"
Saturday, Feb 1
"JaZZ in the Gallery"
ImpresaRIO Series: Rio Clemente & Guest, Warren Chiasson
Friday, June 6.