Imagine yourself in an intimate place, absorbing the glorious sound of music or laughing to the
comedian's antics while surrounded by the inspiring colors and forms of works of art!
The Heinz W. Otto Gallery has 12-foot ceilings, superb acoustics, and a seating capacity of 100.
"JaZZ in the Gallery"
ImpresaRIO Series: Rio Clemente with Jerry Weldon
Friday, October 21, 8 p.m.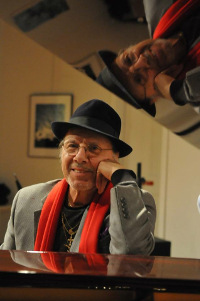 Pianist Rio Clemente opens this year's "JaZZ in the Gallery" series, joined by tenor saxophonist Jerry Weldon.
Rio Clemente mixes a strong classical background with a rich knowledge of jazz history, and then adds an amazing sense of creativity and interpretation which draws his audience up in a musical embrace and takes them on an extraordinary journey of fanciful melodies and scintillating rhythms. As a master pianist, educator, composer, arranger and recording artist, Clemente leaves an indelible melodic memory long after the piano becomes silent. As his infectious good humor enlivens the audience, he breathes new life into jazz and popular standards that make his legion of fans shake their heads in amazement. And those who hear Rio for the first time are instantly transformed into fans.
A child prodigy, Rio received a BMI scholarship for musical theatre and then continued his education at the Julliard School of Music. He went from Julliard to Nashville, where he spent two years as a performer and composer, making appearances at the Grand Ole Opry. With his classical training, Rio developed a style embracing a diversity of music that makes him one of the most expressive and versatile pianists anywhere and one of the most sought after.
After several television appearances, Rio advanced professionally to playing at several distinguished concert halls and festivals, including Carnegie Hall, Avery Fisher Hall at Lincoln Center, Manhattan's famous Birdland and the Oak Room at the Algonquin Hotel, as well as the Newport and JVC Jazz Festivals, and a memorable appearance at the White House. He regularly appears with groups such as The Morris Choral Society and Orchestra and at jazz venues from Manhattan to Cape Code and from Florida to California.
A native of Morristown, NJ, Clemente is New Jersey's own jewel of the jazz world. He is a member of the Morristown Hall of Fame, was named by the NJ Council of the Arts as an Outstanding Professional of the Year, and recognized as one of the "Top 40 New Jerseyans" by the New Jersey Monthly. He is a proud member of the United States Coast Guard Auxiliary at Lake Hopatcong, NJ.
Native New Yorker Jerry Weldon is a veteran of the New York Jazz Scene, his résumé reading like a virtual "Who's Who of Jazz." He has worked and recorded with organists Jimmy McGriff, Joey DeFrancesco, Bobby Forrester, Dr. Lonnie Smith, and Mel Rhyne, trombone great Al Grey, piano giants George Cables and Cedar Walton, drum legends Roy Haynes and Jimmy Cobb as well as guitarist/singer George Benson, guitarist Earl Klugh, bassist Keter Betts and singer Mel Tormé.
Weldon is a bandleader in his own right, leading ensembles at many of New York's jazz clubs and at jazz festivals around the U.S. He has recorded several albums under his own name, among them, "Head To Head," a swinging two-tenor date with Michael Karn on the Criss Cross Jazz label "Midtown Blues," a rousing quintet with long time collaborator Joe Mags (Magnarelli) recorded live at Fat Tuesdays in NYC, and two hard-swinging dates with the late, great organist, Jerry's long-time pal, Bobby Forrester.
Playing bass for this performance will be Rick Crane.
Tickets are $18 in advance, $22 ($20 for WAC members, $10 for students) at the door. You may purchase tickets securely through Eventbrite. For more information, please call 908-753-0190 or e-mail us.
"JaZZ in the Gallery"
Sandy Sasso and Her Little Big Band
Saturday, November 12, 8 p.m.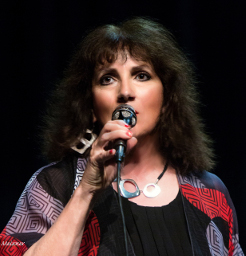 At the age of 12, Sandy Sasso heard Dave Brubeck's "Take Five". "For me that was 'the' moment. I found the music so intriguing. It was like nothing I had ever heard. Don't get me wrong, I was just a kid and I loved my rock and roll, but I managed to listen to jazz whenever it was around".
Vocalist Sandy Sasso brings her "Little Big Band" to the Watchung Arts Center on Saturday, November 12 at 8PM as part of the Center's "JaZZ in the Gallery" series. Appearing with Ms. Sasso will be bandmembers Ted Brancato on piano; bassist Mike Carino; drummer Dennis Nardone; Dennis Truncillito and Frank Grasso on trumpet; trombonists Danny Hall and Carl Della Perutta; Warren Fioretti, tenor saxophone; Rich Kraus, alto saxophone; and Lenny Klinker, baritone saxophone The evening will include a dessert reception, affording an opportunity to meet Ms. Sasso and the band.
Sandy Sasso "has garnered a widespread reputation as a first rate vocalist.," according to a NJ Jazz Society review. She began performing in clubs and auditioning for band gigs while a voice/piano major at Westminster Choir College. Early on, she landed an audition with a local big band that opened the doors to her strong big band style. . Sasso says, " My love for my jazz work is always first and foremost, but I love the energy of my big bands.
An internationally-known artist, Sandy tours world-wide, while keeping her performance base in New York City, with everything from small jazz combos to 17 piece big bands. Sandy sings with and for the best in the business: jazz legends, presidents, entertainment giants, and some of the best road bands traveling today, including the Dorsey, Goodman, Riddle and Pops big bands. She currently has four CD's to her credit, with two more in the works.
In addition to performing, Sandy has been a sought-after vocal coach and piano teacher for over three decades. She also shares the love and joy of music with her children's choir. Originally started by Sandy almost twelve years ago, this wonderful little choir, ages 6 to 13 continues to grow. "We're squeezing the statues off the alter" says Sasso. "It is such a great feeling", she says, "to see these young ones raising their voices in a spiritual setting."
Tickets are $18 in advance, $22 ($20 for WAC members, $10 for students) at the door. You may purchase tickets securely through Eventbrite. For more information call 908-753-0190 or e-mail us.
"JaZZ in the Gallery"
13th Annual Holiday Concert: Amani
Saturday, December 10, 8 p.m.
Marty Eigen bring his new quartet, Amani, to the WAC to celebrate the holidays.
Amani means "peace" in Swahili. The group was formed to share the concept of peace through music, performing for people of all ages, races, and religious affiliations.
The core group includes veteran musicians: Marty Eigen on sax and flute; Fred Fischer on keyboards; vocalist Stephen Fuller; and guitarist Flip Peters.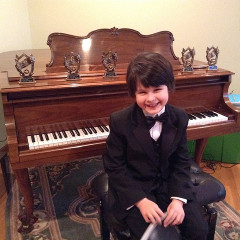 Amani performs hits from a variety of genres including The Great American Songbook, Gospel, R&B, jazz, Bossa nova, and Broadway.
A special guest for this performance is 10-year old phenom, pianist Tyler Fengya.
Tickets are $18 in advance, $22 ($20 for WAC members, $10 for students) at the door. You may purchase tickets securely through Eventbrite. For more information call 908-753-0190 or e-mail us.
Please enjoy videos of some past performances at the WAC