Imagine yourself in an intimate place, absorbing the glorious sound of music or laughing to the
comedian's antics while surrounded by the inspiring colors and forms of works of art!
The Upper Gallery has 12-foot ceilings, superb acoustics, and a seating capacity of 100.
For a printable listing of performances and other events at WAC, click here to view our Event Calendar.
Improv
The Improvables
Adult Improv: Saturday, May 11, 8 p.m.
Family Improv: Saturday, June 8, 8 p.m.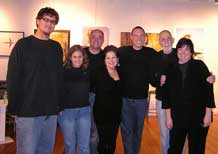 Need a dose of laughter to bring in the fall with fun and merriment? Join The Improvables, the cast of characters that brings new meaning to phrases like "he has a gift for gab" and "I laughed so hard my belly hurt". The Improvables has been performing to crowds of families and adults for nine years and continue to excite audiences of all ages with both Adult and Family-Friendly shows.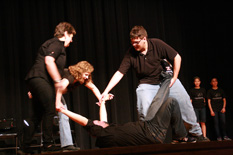 Each show is a new experience, refreshing and full of outrageous moments and hysterical experiences. The troupe performs a series of "games" in which they act out various scenarios without knowing in advance what they are going to say or how things are going to turn out. The audience often sets the scenes for the players on-the-spot and may be pulled up to join in the fun!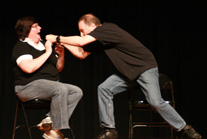 Tickets to all performances (Adult and Family-Friendly) are $8. The room is small, the laughter large but book early before the seats run out.
You may purchase tickets securely through Eventbrite. For more information call 908-753-0190 or e-mail us.
"Classicals at the Circle"
Three Piano Divas —
Min Kwon, Beatrice Long, Sophia Agranovich
Saturday, June 1, 8 p.m.
What happens when you ask three immensely accomplished female pianists to perform together in honor of the special man who founded and produced the 'Classicals at the Circle Series' at the Watchung Arts Center? The result is a concert that no other can equal as Min Kwon, Beatrice Long, and Sophia Agranovich join forces in the Upper Gallery to display their magnificent talents.
The Three Piano Divas, each serving as artistic director at different times with Claus Cardinal, will pay tribute to him as only they can. During the eight years that Mr. Cardinal directed the CatC Series, each Diva not only contributed her time and expertise in selecting outstanding musicians to play at the WAC, but also performed to the acclaim of her own audiences.
For this special concert, the Three Piano Divas will perform solo and ensemble works, including four and six hand arrangements. The classical elegance and finesse of Ms. Kwon, the romanticism and passion of Ms. Agranovich, and the mastery and lyricism of Ms. Long, will be on full display. Come join us at the Watchung Arts Center for what will be one of the most outstanding musical experiences ever!
A Dessert Reception will follow the concert in honor of Claus Cardinal and the Three Piano Divas.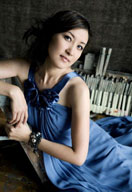 Min Kwon — A Steinway Artist, pianist Min Kwon is in demand around the world as a soloist, chamber musician and teacher. A graduate of The Curtis Institute of Music (BM), The Juilliard School (MM & DMA), and Mozarteum in Salzburg (post-doc), her professional engagements have taken her to over 60 countries on seven continents and to all 50 states in the US. Recent performance highlights include critically acclaimed solo recital at Carnegie's Weill Recital Hall in New York and at Steinway Halls in London and Sydney. Highlights of recent seasons include chamber music performances with ten principals of the Philadelphia Orchestra, a tour and recording of Schubert Four Hand recital with Viennese pianist Robert Lehrbaumer, and world premieres of three newly commissioned works for her in New York, Florida, and Serbia. Ms. Kwon has appeared as a soloist under James Conlon, Alan Gilbert, Stanislaw Skrowaczewski and, as a chamber musician, with the principal players of New York Philharmonic, Chicago Symphony, Metropolitan Opera Orchestra, Orchestre de Paris, Czech Philharmonic and many other distinguished artists. With her sister, violinist Yoon Kwon, she has given over 200 joint recitals throughout the United States under the auspices of CAMI, and has recorded for BMG/RCA Red Seal. Her solo album of Schubert and Liszt (MSR Classics) earned a Grammy Award for Best Producer of the Year (David Frost) in 2009. A dedicated teacher, Min Kwon has given master classes at major institutions and festivals around the world. Professor of Piano at Rutgers University in New Jersey since 2002, she is also the Founder and Director of CME, The Center for Musical Excellence in New York, a non-profit school for gifted young international pianists, and serves as Co-Director of Vienna ConcertoFest in Austria.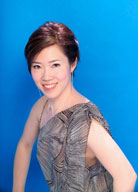 Beatrice Long — Hailed for her "…maximum insight and fiery brilliance in her keyboard approach" by critics, Beatrice Long has performed as a soloist with Baltimore Symphony, National Symphony of Mexico, National Symphony of Taiwan, Taipei Symphony Orchestra, Eskisehir Orchestra of Turkey, New Amsterdam Symphony, Ensemble du Monde of NYC, and the Jura Symphony Orchestra of France among others. A top medalist from several international competitions including the Cleveland International Competition and the World Competition of Cincinnati, she has gained critical acclaim (Washington Post, BBC, and American Records Guide) as a solo recitalist, a recording artist on the Naxos and Dorian Sono Luminus label, and a duo pianist of the Long Duo. A native of Taiwan, she has concertized throughout the US, Europe, Asia and Central America; and has performed in venues such as Alice Tully Hall, Carnegie Hall, Merkin Hall, Symphony Space (NYC), Taiwan National Concert Hall, Hangzhou Grand Theatre in China, Theatre of Epernay (France), as well the American Music Ambassador series in Central America. Her performances in Ravinia, Spoleto, Fontainebleau and Champagne (France) Festivals and recordings have been broadcast by Radio France, National Public Radio USA, CBC Canada, NY TV1 among others. A graduate of the Curtis Institute and Peabody Conservatory, she has studied with Leon Fleisher, Fou Ts'ong and Mieczyslaw Horszowski. Ms. Long is the Artistic Director and co-founder of The National League of Performing Arts.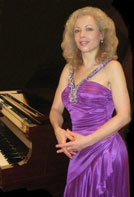 Sophia Agranovich — Sophia Agranovich is an internationally acclaimed virtuoso pianist, recording artist and educator. Jerry Dubins writes in Fanfare Magazine: "Sophia Agranovich's alchemy of mind-bending technical prowess and heart-melting emotional expressivity add up to one of the most glorious piano recitals this side of Elysium. Urgently recommended." Among her venues are Avery Fisher Hall, Bruno Walter Auditorium and Paul Hall at Lincoln Center, Carnegie Weill Recital Hall, Merkin Hall, Steinway Hall, and Bargemusic, all in New York City, Salle Cortot in Paris, Rubin Academy of Music in Tel-Aviv, BrandeisBardin University in California, Watchung Arts Center in New Jersey, Kiev Tchaikovsky National Academy of Music and Lvov State Conservatory in Ukraine. Ms. Agranovich's recent broadcasts include Rádio Universidade FM 106.9 in Brazil and CKWR 98.5 in Canada. Ms. Agranovich is a First Prize winner of All-Ukrainian Young Artists and Bergen Philharmonic competitions, Program Chair of Music Educators Association of NJ, Artistic Director of classical music series at the Watchung Arts Center, listed in the Juilliard Private Teachers directory, Who's Who in America, Who's Who in the World, and is on the Steinway Artists roster. Ms. Agranovich is an esteemed pedagogue and adjudicator and is a recipient of numerous awards for teaching excellence. Ms. Agranovich earned Bachelor and Master Degrees from the Juilliard School, where she held a full scholarship and teaching Fellowship. Her major professors were legendary Sascha Gorodnitzki and Nadia Reisenberg.
Tickets are $18 in advance, $22 ($20 for WAC members, $10 for students) at the door. You may purchase tickets securely through Eventbrite. For more information, please call 908-753-0190 or e-mail us.
"Jazz in the Gallery"
ImpresaRIO Concert:
Rio Clemente with special guest, pianist and composer Regan Ryzuk
Friday, May 17, 8 p.m.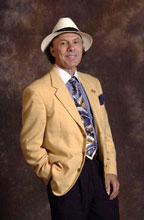 When Rio Clemente hits the stage, he brings fire and passion and with him talented musicians to tantalize jazz enthusiasts and music lovers alike.
As a master pianist, educator, composer, arranger and recording artist, Rio Clemente mixes a strong classical background with a rich knowledge of jazz history, then adds an amazing sense of creativity and interpretation. The result is a smorgasbord of music that is different from others, and nearly always produces a standing ovation and cries for "more. "Clemente has played jazz piano on concert stages, in clubs and restaurants, in churches, supermarkets and even the historic 1938 Steinway piano in the East Room of the White House. He has recorded with bassist Milt Hinton, performed Dave Brubeck's mass (To Hope! A Celebration) and prepared a feature CD on Richard Rodgers that led Linda Rodgers to say, "Rio plays my father's music better than anyone I ever heard–— with unremitting style and sensitivity, and always with a technique that is elegant." Dave Brubeck has written, "Rio Clemente is EXCELLENT!"
Bria Skonberg, who was to join Rio for this season finale, has been offered a featured performance at the Apollo Theatre for a gala event presented by the Jazz Foundation of America on the same night. Rio has given his blessing to Bria, along with the Center's, for her to take advantage of this opportunity. We look forward to Bria performing at the WAC with Rio at a future date.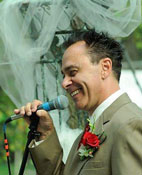 American Composer and Pianist, Regan Ryzuk, has graciously stepped in to join Rio on stage. Regan is the son of renowned painter, Onufry Ryzuk and published author and playwright, Mary S. Ryzuk, PhD. He attended Manhattan School of Music and The Julliard School of Music and began his musical career touring with various ballet companies traveling through Europe and Latin America. This experience improved his improvisational techniques and laid the groundwork for one of his greatest piano compositional works, 48 Preludes and Fugues, in the style of Johann Sebastian Bach. After moving back to the United States, Ryzuk lived in New York and continued his writing and there developed a base of students, including Fountains of Wayne co-founder, Adam Schlesinger. Ryzuk was a founding partner of SOUNDGUILD, a TV/film music production company. In addition, he has provided songs for Extreme Music Library, LTD which features such notable artists as Quincy Jones.
Tickets are $18 in advance, $22 ($20 for WAC members, $10 for students) at the door. You may purchase tickets securely through Eventbrite. For more information, please call 908-753-0190 or e-mail us.
"JaZZ in the Gallery"
Marty Eigen's Beacon Hill Jazz Band
with Leonieke Scheuble
Friday, June 7, 8 p.m.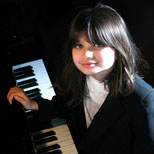 Last year, Leonieke Scheuble made her debut performance with Marty Eigen's Beacon Hill Jazz Band at the age of ten years old. On Friday, June 7, the award winning eleven-year-old will return. In March of this year, Leonieke won the International Women in Jazz "Youth in Action" award for musicians under the age of 18. Leonieke Scheuble is a gifted pianist who has a rare talent for blues and jazz improvisation at an unusually young age.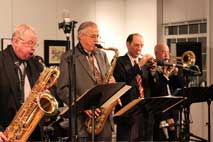 This will be the band's 30th appearance at the Arts Center. Once again, the band is striving to raise the bar of excellence by having some of the best musicians in the area, including Fred Fischer on piano and vocals, Nancy Nelson on vocals, Bill Ash on trumpet and Leonieke's father Nick Scheuble on drums.
All of those who attended last year's sold-out concert know what a treat they are in for. For those of you that didn't, get your tickets early. We are hoping for another sellout.
Tickets are $16 in advance, $20 ($18 for WAC members, $10 for students) at the door. You may purchase tickets securely through Eventbrite. For more information call 908-753-0190 or e-mail us.