Imagine yourself in an intimate place, absorbing the glorious sound of music or laughing to the
comedian's antics while surrounded by the inspiring colors and forms of works of art!
The Upper Gallery has 12-foot ceilings, superb acoustics, and a seating capacity of 100.
"Jazz in the Gallery"
ImpresaRIO Series presents Rio Clemente, pianist
Friday, November 22, 8 p.m.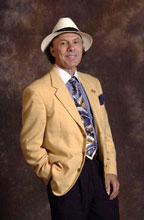 Anyone who has listened to Rio Clemente play piano comes away in awe at his passionate musicality, impressive technique and nimble facility at the keyboard.
As a master pianist, educator, composer, arranger and recording artist, Clemente mixes a strong classical background with a rich knowledge of jazz history, and then adds an amazing sense of creativity and interpretation. The result is a smorgasbord of music that is different from others, and nearly always produces a standing ovation and cries for more. When reviewers stumble for words to describe his work, it's because words fail to convey the rich depth of character, facility at the keyboard and ease with which his music is crafted and performed.
Rio Clemente hits the stage with fire and passion to tantalize jazz enthusiasts and music lovers alike. The Bishop of Jazz will bring something very special and unequaled to the Arts Center in this series.
Tickets are $18 in advance, $22 ($20 for WAC members, $10 for students) at the door. You may purchase tickets securely through Eventbrite. For more information, please call 908-753-0190 or e-mail us.
"Classicals at the Circle"
Stephen Fang and Friends
Sunday, December 8, 7 p.m.
New Jersey Symphony Orchestra Assistant Principal Cellist, Stephen Fang, will be featured in Stephen Fang and Friends. Mr. Fang will be joined by his sister Jeannette Fang, pianist, as well as fellow NJSO musicians, violinists Darryl Thomas Kubian and Hector Falcon and violist Elzbieta Weyman.
The program includes the Prokofiev Sonata for Cello and Piano in C Major, Opus 119, and the Piatigorsky Variations on a Paganini Theme for Cello and Piano, played by Stephen and Jeanette Fang. Wynton Marsalis' "At the Octoroon Balls" for String Quartet will be performed by Stephen Fang, Darryl Kubian, Hector Falcon and Elzbieta Weyman.
A dessert reception will follow the concert where audience members can meet and greet the outstanding musicians.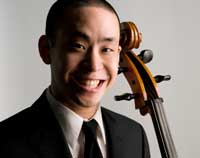 Stephen Fang, formerly of Bridgewater, has been Assistant Principal Cellist of the New Jersey Symphony Orchestra since 2007. Prior to winning his position at the NJSO, he served as Assistant Principal of the Aspen Festival Orchestra and Akron Symphony Orchestra. He has also performed with the IRIS Chamber Orchestra and Canton Symphony Orchestra. As a chamber musician, Mr. Fang has been featured in the Fischoff Grand Prize Winner's Tour, Kennedy Center Millennium Stage Recital Series, Cleveland Chamber Music Society Series and Cleveland Chamber Music Guild Series.
Jeannette Fang is an imaginative and expressive pianist whose dynamic performances have attracted the attention of professionals as well as the concert-going public. An active presence on the concert stage, Ms. Fang performs regularly in such settings as Alice Tully Hall, John F. Kennedy Center, Zankel Hall, Bargemusic, Peter J. Sharp Theater, Weill Recital Hall, Steinway Hall, Sprague Recital Hall, and many others. In addition to her long-standing commitment to solo piano performance, Jeanette Fang is a passionate and experienced chamber musician.
Darryl Kubian is a member of the New Jersey Symphony Orchestra's first-violin section and former principal second violin of the Brooklyn Philharmonic Orchestra. He has performed jazz violin with trumpeter Randy Brecker in a Charlie Parker program entitled "Byrd Lives!" and has arranged and performed Ellington's "Sacred Songs" in collaboration with the Jazz Studies Program at Rutgers University. Kubian's improvisational skills have been highlighted with artists such as Nigel Kennedy, Al Jarreau, Bobby Short and Renée Fleming.
Described by music critics as an artist who "displays a solid technique, beautiful sound and great maturity" and possesses "an excellent sense of style and musicality," violinist Héctor Falcón has won numerous awards and competitions both in the United States and Puerto Rico. Falcón has been a member of the New Jersey Symphony Orchestra since 2000, and he regularly plays with the New York City Ballet, Opera Orchestra of New York, American Symphony Orchestra and Houston Symphony Orchestra."
Elzbieta Weyman joined the NJSO as assistant principal violist in 2013. She was educated at The Juilliard School, where she studied with Masao Kawasaki and Michael Tree. Ms. Weyman was a member of the New World Symphony from 2011-2013. Elzbieta has also made several solo and chamber music appearances including performing the Walton Viola Concerto at the Aspen Summer Music Festival with Leonard Slatkin in 2007 and Mozart's Sinfonia Concertante with the Juilliard Orchestra in 2010 with conductor Xian Zhang.
Tickets are $16 in advance, $20 ($18 for WAC members, $10 for students) at the door. You may purchase tickets securely through Eventbrite. For more information call 908-753-0190 or e-mail us.
"Classicals at the Circle"
Teen Benefit Piano Concert — Music for Music
Saturday, November 23, 8 p.m.
Five teenage piano prodigies will join hands in a concert called Music for Music, to benefit VH1 Save the Music Foundation and The Watchung Arts Center, two non-profit organizations that support the Arts. VH1 Save the Music Foundation is dedicated to restoring instrumental music education in America's public schools, and raising awareness about the importance of music as part of each child's complete education. The Watchung Arts Center, a volunteer-run organization, gives performing artists as well as visual artists the opportunity to display their talents to the greater community in a professional venue. The Center is unique in New Jersey due to the depth and variety of art and music experiences and educational opportunities that it offers to children and adults.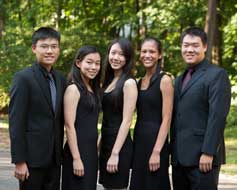 (left to right) Eric Lee, Rayleen Hu,
Amy Zhuang, Camille Afable, Justin Lee
Featured performers are Justin Lee, a senior at the Union County Magnet High School; Eric Lee, a senior, and sophomores Camille Afable and Amy Zhuang who all attend Millburn High School; and Rayleen Hu, a sophomore at West Morris Mendham High School. These teenagers who already have impressive biographies and credentials want to give back to the music community by raising funds through this concert for the non-profits. All the youthful performers are students of Beatrice Long, a esteemed piano pedagogue and concert artist.
The Program for the evening includes selections by a list of honored composers. Represented are compositions by Schumann, Debussy, Brahms, Chopin, Rachmaninoff, Bizet, Beethoven, Rossini, Griffes, Turina, and Villoldo. In addition to the piano solos, a clarinet-bassoon-piano trio will be presented as well as a six-hand version of Rossini's Overture from 'The Barber of Seville'.
"I want to help both organizations who work to spread their love of music with the whole community." Camille Afable
"I am participating in this concert to help raise awareness to the importance of having music in the community…" Rayleen Hu
"I believe that all students deserve to be exposed to music and all of its benefits." Justin Lee
"…I would like to help others who love music be given the opportunity to experience and express music as I had." Amy Zhuang
"We want all children to have the necessary tools to make the music they love. With VH1 and the Watchung Arts Center, we can do just that." Eric Lee
Tickets are $20 for adults, $10 for students. You may purchase tickets securely through Eventbrite. For more information call 908-753-0190 or e-mail us.
"JaZZ in the Gallery"
Marty Eigen's Beacon Hill Jazz Band Holiday Concert
Friday, December 13, 8 p.m.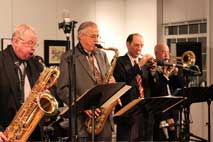 Marty Eigen's Beacon Hill Jazz Band will perform its eleventh annual Holiday Concert on December 13.
This will be the most exciting holiday concert to date. The band will consist of regulars Marty Eigen, tenor sax; Fred Fischer, piano and vocals; Nancy Nelson, vocals; Bill Ash, trumpet, and Doug Wintz, trombone; joined by great newcomers to the band Carol Hamersma, guitar; her husband Steve Burke, bass; Larry DeLucca on baritone sax. and Al Korzin, drums.
If you have never attended one of the Beacon Hill holiday performances, this is your opportunity to experience this outstanding band up close and personal.
Following the concert, the festivities continue, with a "Meet the Musicians" reception. "EAT, DRINK AND BE MERRY!"
Make your reservations early, so as not to miss the best concert of the holiday season!
Tickets are $16 in advance, $20 ($18 for WAC members, $10 for students) at the door. You may purchase tickets securely through Eventbrite. For more information call 908-753-0190 or e-mail us.
Improv
The Improvables
Family Improv: Saturday, January 11, 8 p.m.
Adult Improv: Saturday, March 15, 8 p.m.
Family Improv: Saturday, June 7, 8 p.m.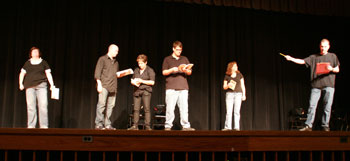 The Improvables have been providing the Center's audiences with zany, raucous one-of-a-kind and never-to-be-repeated humor since 2002. Each show features a series of games in which the performers act out various scenes, based on audience suggestions, without advanced knowledge of the topics. Come ready to laugh at the antics of this wonderful improvisational troupe of actors including Randy Schweriner, David Kritz, Michele Kerekes, and Brandon Lericos of Bridgewater, Phil Hochman of Plainfield, Roberta Maher of Mt. Arlington and Mike Griffin of Hillsborough.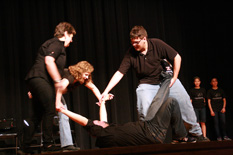 Family-friendly shows are suitable for children 10 and older, while adult shows are "R" rated.
Tickets to all performances (adult and family-friendly) are $8.
You may purchase tickets securely through Eventbrite. For more information call 908-753-0190 or e-mail us.