Imagine yourself in an intimate place, absorbing the glorious sound of music or laughing to the
comedian's antics while surrounded by the inspiring colors and forms of works of art!
The Heinz W. Otto Gallery has 12-foot ceilings, superb acoustics, and a seating capacity of 100.
"JaZZ in the Gallery"
Ed Laub, Frank Vignola & Martin Pizzarelli
Saturday, May 7, 8 p.m.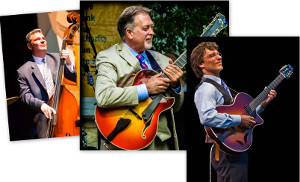 Guitarist Ed Laub, who appeared at the Watchung Arts Center in 2014 and 2015 with jazz guitar legend, Bucky Pizzarelli, will perform with internationally renowned guitarist, Frank Vignola, along with Bucky's son, bassist Martin Pizzarelli.
We are pleased to announce that there is a strong possibility that Bucky Pizzarelli will be at the concert. We urge you to purchase tickets in advance so that you won't miss out.
Ed Laub is a locally acclaimed guitarist and vocalist whose style has been compared to a blend of Kenny Rankin, Chet Baker and James Taylor and a guitar style similar to his mentor Bucky Pizzarelli. Ed says, "That's not bad company to be associated with. They were among the artists to whom I listened to and was most influenced by. I guess I would say I am honored with that comparison"
Ed has performed as part of a duo with Bucky Pizzarelli for over 14 years and has performed with the likes of Gene Bertoncini, Howard Alden, Paul Meyers, Jack Wilkins, Russell Malone and pianist Russ Kassoff, in addition to previous appearances with both Frank Vignola and Martin Pizzarelli. Ed also had the privilege of several guest appearances with his idol, the late Kenny Rankin.
Frank Vignola is one of the most extraordinary guitarists performing before the public today. His stunning virtuosity has made him the guitarist of choice for many of the world's top musicians, including Ringo Starr, Madonna, Donald Fagen, Wynton Marsalis, Tommy Emmanuel, the Boston Pops, the New York Pops, and guitar legend Les Paul, who named Vignola to his "Five Most Admired Guitarists List: for the Wall Street Journal. Vignola's jaw-dropping technique explains why the New York Times deemed him "one of the brightest stars of the guitar".
With over 1000 engagements in the last five years alone, Frank Vignola has become one of the most popular and sought after guitarists on the international music scene. His dynamic genre-spanning music has brought him to 14 countries on three continents, performing in some of the world's most illustrious venues, including the Sydney Opera House in Australia, Carnegie Hall, The Palace of Fine Arts in San Francisco, New York's Lincoln Center and the world's oldest indoor concert hall, Teatro Olimpico in Vicenza, Italy.

Martin Pizzarelli is a renowned double bassist known for his work with his father, Bucky Pizzarelli, and brother, guitarist and singer John Pizzarelli. He grew up in Saddle River, NJ, where at a young age he became accustomed to weekly visits from Benny Goodman, Teddy Wilson, Zoot Sims, Clark Terry, Sonny Stitt and Ray Brown. Martin, along with his brother and pianist Ray Kennedy, famously opened for Frank Sinatra's world tour in 1993. Since then he has endured a remarkable tour schedule of roughly 200 dates per year throughout all corners of the globe.
His appearances include television shows hosted by Jay Leno, David Letterman and Conan O'Brien, venues ranging from Carnegie Hall to the Blue Note Jazz Club, and work with the Boston Pops, New York Pops, San Diego Symphony, Dallas Symphony and New Jersey Symphony orchestras. Martin has also worked often with jazz pianist Monty Alexander and Daniel Jobim, the grandson of Antonio Carlos Jobim. In 2004, he released and recorded his own trio CD with Bucky Pizzarelli and Ray Kennedy, and has appeared as a sideman on over 30 albums.
All Tickets are $25. You may purchase tickets securely through Eventbrite. For more information, please call 908-753-0190 or e-mail us.
"Classicals at the Circle"
Sophia Agranovich
"Sublime Passion, Haunting Beauty"
Saturday, May 21, 8 p.m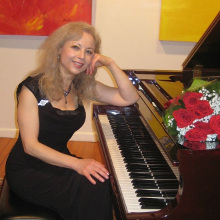 The program will feature Franz Liszt's epic Après une Lecture du Dante: Fantasia quasi Sonata - inspired by Victor Hugo's poem 'After a Reading of Dante' ('Divine Comedy'), the exquisitely poetic and passionate 3 Sonneti del Petrarca, the nostalgic anddazzling Hungarian Rhapsody # 14, and other works.
Internationally acclaimed soloist, chamber musician, recording artist and educator, Sophia Agranovich is "a bold, daring pianist in the tradition of the Golden Age Romantics…A tigress of the piano" - Fanfare. Her performances are captivating audiences by the "orison of uncommon beauty" - Audiophile, "the extraordinary dramatic urgency", "the extraordinary dramatic urgency", "the ideal balance she achieves between the intellectual and the emotional" - Fanfare, "interpretation that dares to be different", "magnificent shading and superior musicianship" - American Record Guide.
A Steinway Artist, Ms. Agranovich had performed in USA, Europe, Israel, and Canada. Among her venues are Avery Fisher Hall, Bruno Walter Auditorium and Paul Hall at Lincoln Center, Carnegie Hall, Merkin Concert Hall, Steinway Hall, and Bargemusic, all in New York City, Salle Cortot in Paris, Ehrbarsaal in Vienna. Ms. Agranovich has collaborated with prominent musicians and members of the major orchestras.
Sophia Agranovich's discography received outstanding reviews and includes "Romantic Virtuoso Masterpieces" (works by Beethoven, Chopin, Liszt, Schumann, Scriabin - 2010), "Franz Liszt - Bicentennial Tribute" ("Un Sospiro", "La Campanella", Rhapsodie Espagnole, Sonata in b minor - 2012), "Passion and Fantasy" (Beethoven: "Appassionata", Chopin: Fantaisie and Sonata in b minor - 2014), Brahms-Paganini Variations books I and II, Schumann: Symphonic Etudes, Schumann-Liszt: "Widmung" - 2014, Schubert: 'Wanderer' Fantasie and Chopin: 4 Ballades - 2015, Schumann: Carnaval and Fantasie - 2016. Recently Ms. Agranovich was awarded a Silver Medal from Global Music Awards, and her recordings were broadcast in Brazil on Universidade FM 106.9 "Company of the Music", in Canada on CKWR 'Women in Music', and in New York on WWFM 'Piano Matters' and WQXR 'Reflections from the Keyboard' with David Dubal..
A native of Ukraine, Sophia Agranovich won the All-Ukrainian Young Artists Competition at 10, being the youngest participant. Her concerts were broadcasted on national TV and radio stations since she was 6. Her teachers were Anna Stolarevich and Alexander Edelman, peers of Vladimir Horowitz in the class of Felix Blumenfeld. At 15, Ms. Agranovich entered the Juilliard School in New York where she studied with legendary professors Sascha Gorodnitzki and Nadia Reisenberg. Ms. Agranovich earned Bachelor and Master Degrees from the Juilliard, holding full scholarship and a Teaching Fellowship and won a First Prize in the Bergen Philharmonic Competition. Ms. Agranovich was working towards her Doctorate in Music Education at the Columbia University, but deferred that pursuit to raise a family.
Sophia Agranovich is an esteemed pedagogue, lecturer, master class clinician, adjudicator, and is a recipient of numerous teaching awards. Her students are consistently winning top prizes in regional, national and international competitions and are performing at prestigious venues. Ms. Agranovich is the voting member of NARAS, listed in 'Who's Who in America' and 'Who's Who in the World', active member of various professional music organizations, Artistic Director of classical music series at the Watchung Arts Center and Program Chair of Music Educators Association of New Jersey.
For more information, visit www.sophiagranovich.com.
Tickets are $16 in advance, $20 ($18 WAC Members, $10 students )at the door. You may purchase tickets securely through Eventbrite. You may also reserve seats by calling 908-753-0190 or e-mail us.
"JaZZ in the Gallery"
The Watchung Arts Center
Celebrates the Career of Nancy Nelson
Saturday, May 14, 8 p.m.
Nancy Nelson, well-known at the Watchung Arts Center as a vocalist with Marty Eigen's Beacon Hill Jazz Band, and as one of 2014's "Three Jazz Divas" will sing "Favorites from the American Popular Songbook" at the WAC on Saturday, May 14 at 8PM. Ms. Nelson will be joined by Fred Fischer on piano, Liz Fischer on guitar, and bassist Ron Naspo. In addition to Nancy's solo numbers, the evening will also feature songs by the NFL Vocal Jazz Trio, a collaboration of Nancy, Fred and Liz. The performance will be followed by a special dessert reception to honor Nancy, with an opportunity for the audience to meet the performers.
Nancy has just announced that she and her husband Dom will soon be moving to Florida. The WAC invites Nancy's friends, fans and public to celebrate with her at what might be her last concert in New Jersey.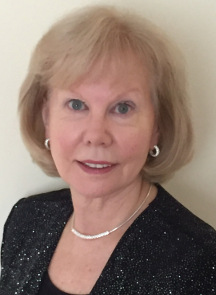 Nancy Nelson has been known throughout her career for her elegant style, magnificent lyricism, the ability to deliver a song with pitch-perfect precision and her interesting commentary about the music".
In her own words: "I have an affinity for the repertoire from the American Popular Songbook because the songs say something that I couldn't convey using ordinary words. I have always enjoyed searching out details about the songs and composers, and telling audiences those little tidbits that enhance the songs. I know people like to hear familiar songs, but I also really enjoy presenting songs they haven't heard written by the composers they know…or telling them more about a composer whose songs are well known, but whose name is not. I think it's so important to keep bringing this treasure trove of great music and brilliant composers to the public, in the hope that people will still be listening to Gershwin, Porter and Berlin and the others a hundred years from now."
Ms. Nelson was the first vocalist asked to do a concert when WAC started its Jazz Series back in 1989. Since then she has performed at the Center almost every year and more frequently since she's been with Marty Eigen.
Nancy grew up in Summit, NJ, and began singing jazz professionally at age 17. Her jazz engagements have included the world-famous Rainbow Room in New York City, as well as many clubs in the New York area.
Nancy has performed many times for the New Jersey Jazz Society, at several Newport Jazz Festival picnics, and numerous concerts at the Watchung Arts Center and the Bickford Theatre in Morristown. Locally, Nancy performs regularly at Shanghai Jazz Restaurant in Madison, and freelances with many other jazz groups and big bands throughout the area.
A classically trained singer, Nancy studied music at Ithaca College and Kean University. She is a choir member and soloist at the Presbyterian Church in Basking Ridge, where she and bassist Hal Slapin have co-led the annual jazz worship service for 23 years. Nancy has two recordings available: "Sweet and Low Down," with the Keith Ingham Quartet, featuring songs by Berlin, Porter and Gershwin, and "Songs for the Journey," a collection of sacred jazz and spirituals with Hal Slapin and pianist Jerry Vezza.
NFL (Nancy, Fred, Liz) is a close-harmony vocal jazz trio influenced by the great singing groups – the Boswell and Andrews Sisters, Lambert, Hendricks & Ross, and Manhattan Transfer – singing Fred Fischer's brilliant jazz and swing arrangements. The group's repertoire includes early jazz standards, big band classics, bebop and pop standards.
Fred Fischer grew up in Connecticut and has been playing professionally since the age of 12. While still in high school, he attended the Juilliard School and studied with jazz pianist and educator John Mehegan. Fred took composition classes at the Mannes School in New York, and attended Boston University. In Boston, Fred studied classical piano with Margaret Chaloff [mother of sax player Serge Chaloff, one of the famed Four Brothers of the Woody Herman big band], whose students included jazz pianist George Shearing, and Newport Jazz Festival founder George Wein. Fred was Director of Music at the Wardlaw-Hartridge School in Edison for 17 years and has been the Minister of Music at the United Church of Christ­­-Congregational in Plainfield since 1987. Fred frequently solos in hospitals, nursing homes and community centers, plays for weddings and private parties, and is in demand as a sideman in many jazz groups and big bands. Fred also teaches piano and jazz theory at his home studio in Scotch Plains, where he lives with his wife, Judy. They have four grandchildren.
Liz Fischer studied music composition at the New England Conservatory in Boston, and continued her studies at the University of Southampton, England, where she received her Bachelor of Arts Degree. While pursuing further studies in music education at King Alfred's College in Winchester, Liz briefly taught music in the English public school system. Upon her return to the U.S., Liz studied guitar with the legendary New Jersey jazz guitarist Harry Leahey. She played guitar and sang in the Fischer family band, The Glad Rags, which featured her brother Fred on keyboards, his wife Patty on banjo, and their son, Chris, on drums. Liz has also taught at the Westfield Adult School, served as rhythm guitarist with the New Jersey Jazz Orchestra, and pursued a full-time business career. Liz occasionally sings and often plays for Jazz Sundays in the choir directed by her brother, Fred, at the United Church of Christ-Congregational in Plainfield, and she gladly welcomes playing engagements.
Ron Naspo is an accomplished performer and teacher of string bass. He holds a M.A. degree of Music Education and is active in both the jazz and symphonic fields. Ron has done seasons with the Florida and New Jersey Symphonies, and the American Symphony under Leopold Stokowsky. He toured the United States and Canada with the Robert Joffrey Ballet, and later with the Don Shirley Jazz Trio. He has played with the jazz groups of Stan Kenton, Sonny Rollins, Wild Bill Davison, Bucky Pizzarelli and Billy Maxted. Ron is active as a teacher of string bass, electric bass and improvising at his home in Montclair, NJ.
Tickets are $18 in advance, $22 ($20 WAC Members, $10 students )at the door. You may purchase tickets securely through Eventbrite. For more information, please call 908-753-0190 or e-mail us.
"JaZZ in the Gallery"
ImpresaRIO Series: Rio Clemente
Friday,June 3, 8 p.m.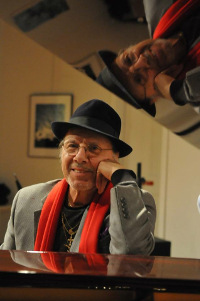 Rio Clemente mixes a strong classical background with a rich knowledge of jazz history, and then adds an amazing sense of creativity and interpretation which draws his audience up in a musical embrace and takes them on an extraordinary journey of fanciful melodies and scintillating rhythms. As a master pianist, educator, composer, arranger and recording artist, Clemente leaves an indelible melodic memory long after the piano becomes silent. As his infectious good humor enlivens the audience, he breathes new life into jazz and popular standards that make his legion of fans shake their heads in amazement. And those who hear Rio for the first time are instantly transformed into fans.
A child prodigy, Rio received a BMI scholarship for musical theatre and then continued his education at the Julliard School of Music. He went from Julliard to Nashville, where he spent two years as a performer and composer, making appearances at the Grand Ole Opry. With his classical training, Rio developed a style embracing a diversity of music that makes him one of the most expressive and versatile pianists anywhere and one of the most sought after.
After several television appearances, Rio advanced professionally to playing at several distinguished concert halls and festivals, including Carnegie Hall, Avery Fisher Hall at Lincoln Center, Manhattan's famous Birdland and the Oak Room at the Algonquin Hotel, as well as the Newport and JVC Jazz Festivals, and a memorable appearance at the White House. He regularly appears with groups such as The Morris Choral Society and Orchestra and at jazz venues from Manhattan to Cape Code and from Florida to California.
A native of Morristown, NJ, Clemente is New Jersey's own jewel of the jazz world. He is a member of the Morristown Hall of Fame, was named by the NJ Council of the Arts as an Outstanding Professional of the Year, and recognized as one of the "Top 40 New Jerseyans" by the New Jersey Monthly. He is a proud member of the United States Coast Guard Auxiliary at Lake Hopatcong, NJ.
Tickets are $18 in advance, $22 ($20 for WAC members, $10 for students) at the door. You may purchase tickets securely through Eventbrite. For more information, please call 908-753-0190 or e-mail us.
Enjoy videos of some past performances at the WAC