Imagine yourself in an intimate place, absorbing the glorious sound of music or laughing to the
comedian's antics while surrounded by the inspiring colors and forms of works of art!
The Upper Gallery has 12-foot ceilings, superb acoustics, and a seating capacity of 100.
Watchung History Day Performance
David Kincaid
Saturday, September 27, 8 p.m.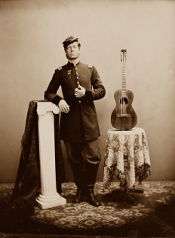 David Kincaid
Recognized as both musician and historian, David Kincaid presents a compelling combination of the songs and history of the Irish in the American Civil War. Kincaid will performance will be mark the conclusion of Watchung History Day festivities.
Years of research, recording and performing experience have been translated into two critically acclaimed albums; "THE IRISH VOLUNTEER" and "THE IRISH-AMERICAN'S SONG," collections of authentic Irish songs of both the Union and the Confederacy. Having performed at a variety of Irish/Celtic festivals, historical sites and folk music venues across the US, as well as European tours, David's music has also been used in several documentary films, and he was engaged as a consultant and performer in the Hollywood Civil War film release "Gods and Generals." David Kincaid (lead vocals, octave mandolin), performs in period clothing, presenting an engaging, all-ages program appealing to both history buff and the Irish/Celtic music fan alike.
Tickets are $16 in advance, $20 ($18 for WAC members, $10 for students) at the door. You may purchase tickets securely through Eventbrite. For more information call 908-753-0190 or e-mail us.
Improv
The Improvables
Adult Improv: Saturday, October 11, 8 p.m.
Family Improv: Saturday, November 15, 8 p.m.
Adult Improv: Saturday, January 10, 8 p.m.
Family Improv: Saturday, February 21, 8 p.m.
Adult Improv: Saturday, March 14, 8 p.m.
Family Improv: Saturday, April 25, 8 p.m.
Adult Improv: Saturday, May 16, 8 p.m.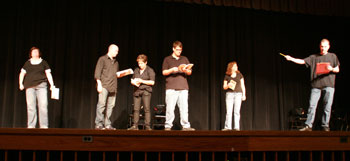 The Improvables have been providing the Center's audiences with zany, raucous one-of-a-kind and never-to-be-repeated humor since 2002. Each show features a series of games in which the performers act out various scenes, based on audience suggestions, without advanced knowledge of the topics. Come ready to laugh at the antics of this wonderful improvisational troupe of actors including Randy Schweriner, David Kritz, Michele Kerekes, and Brandon Lericos of Bridgewater, Phil Hochman of Plainfield, Roberta Maher of Mt. Arlington and Mike Griffin of Hillsborough.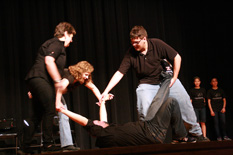 Family-friendly shows are suitable for children 10 and older, while adult shows are "R" rated.
Tickets to all performances (adult and family-friendly) are $8.
Enjoy videos of some of the past season's performances at the WAC
"JaZZ in the Gallery"
The Three Jazz Divas

Lauren Hooker sings "Don't Get Around Much Anymore"
Saturday, Feb 1