Gallery Hours:
Sunday and Monday: closed • Tuesday, Wednesday, Thursday and Friday: noon – 5 p.m.
Saturday: 10 - 3 p.m.
The New Art Group — Multiplicity
Upper Gallery
Sunday, March 2 – Saturday, March 29
Opening Reception: Sunday, March 2, 1 to 4 p.m.
The title of the latest exhibit by the New Art Group at the Watchung Arts Center says it all. The work in the exhibit and the opening reception itself will be examples of how sometimes, more really IS better.
The art works on exhibit represent ideas around multiplicity, a word whose meaning varies widely from mathematics to philosophy and psychology through chemistry, software and mechanics. In fact, it is a word whose definitions are as multiple as the word itself implies.
Each of the New Art Group members, Susan Ahlstrom, Francesca Azzara, Jane Caminos, Nancy Ori, Paul X.O. Pinkman, Heidi Sussman, and Michael Teters, all Central New Jersey residents, tasked themselves with exhibiting work that illustrates some of the concepts behind the term multiplicity. For each artist, the results are both similar and different. They are similar in that each one works with how multiples, many or more than one come into play in their lives and work quite frequently. But the works also bring out commonality. Just as the idea of more than one of something can imply significant differences, all the works in the exhibit provides the audience with a chance to see how difference and separateness draw from oneness as their root.
Here are some quotes from a few of the artists in the show: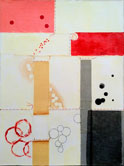 Francesca Azzara
"My current series addresses the concept of multiples as a metaphor for American consumerism."
—Francesca Azzara
"My attention in this exhibit was drawn to the multiplicity of visual forms that express, as Mary Austin wrote in 1903: 'the land will not be lived in except in its own fashion'."
—Susan Ahlstrom
"…Repetition is continued through all the options of post manipulation of the image with all the choices directed towards the final expression. Many options are possible and all but one needs to be discarded before the ultimate click."
—Nancy Ori

Michael Teters
"While encaustic is now the medium I work in most frequently, the habit about thinking of work in series and multiples has stuck with me. Working in series tends to focus my thoughts as I can be kind of random in the work I create."
—Michael Teters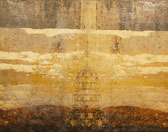 Heidi Sussman
"Multiplicity defines itself by definition or design. It is inherent within a subject even though it may not be obvious like graffiti on a cement wall or traces of a lost civilization."
—Heidi Sussman
And not just the work in the show, but the opening reception itself will be an example of multiplicity at its best.
There will be a wine tasting available thanks to The Wine Cellar of Watchung (www.njwinecellar.com). Located at 1601 US Highway 22 in Watchung, Mike Cappadona of the Wine Cellar will be featuring a selection of some of its wine for opening reception visitors to try. (Must be over 21 to participate.)
Samples of handmade chocolates from Birnn Chocolates (birnnchocolates.com), Highland Park, NJ, will be available.
The opening reception will also feature jazz piano music provided by Alan J. Horwitz, AIA, LEED AP. An early advocate of sustainable design and one of the first architects in the state to become a LEED (Leadership in Energy and Environmental Design) Accredited Professional, Alan serves as Director of Architecture for G3 Architects and teaches a course on Sustainability and Green Design at Berkeley College. When not involved in these passions, or out on his bicycle, Alan occasionally plays solo and ensemble gigs in and around the metro NJ region.
Monica Schraiber Otero — Illuminated Journeys
Lower Gallery
Sunday, March 2 – Saturday, March 29
Opening Reception: Sunday, March 2, 1 to 4 p.m.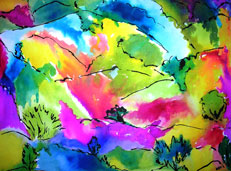 This exhibit features works by Monica Schraiber Otero in a variety of media inspired by her latest travels and recent worldwide events. The pieces reflect how natural light affects our surroundings and guides us through the many pathways of our lives.
Originally from Buenos Aires, Argentina, Mrs. Otero has a B.A. in Art from Rutgers University. Growing up in an artistic family inspired her to pursue a career of her own concentrating in Fine Arts as well as Graphic Design.
Monica's work has been shown in many venues throughout New Jersey and most recently in New York City. She is particularly known for her ink bleeds where the medium is manipulated on wet paper creating abstract and semi-abstract illusions.
Monica Schraiber Otero is the director and instructor of the Children's Art Program at the Watchung Arts Center and the curator of the Children's Juried Art Exhibition. She also teaches Art at high school level.
Mrs.Otero is a member of AENJ (Art Educators of NJ) and the vice-president of the Contemporary Art Group.
To learn more about Monica Schraiber Otero's work and accomplishments please visit www.msoart.artspan.com.
Form for Exhibitors
If you would like to exhibit at the Watchung Arts Center, please download and complete the Exhibitor Agreement.
If you have any questions or comments, please contact Ludmila Kalivoda, VP Visual Arts, Watchung Arts Center, 908-753-7237, e-mail pruhonice@aol.com.