Gallery Hours:
Sunday and Monday: closed • Tuesday, Wednesday, Thursday and Friday: noon – 5 p.m.
Saturday: 10 - 3 p.m.
"Styles - Moments - Impressions"
David Dubal on Canvas, Paper & Blackboard

Curated by Ludmila Kalivoda
Heinz W. Otto Gallery
Saturday, February 6– Saturday, February 27
Opening reception: Saturday, February 13, 4 PM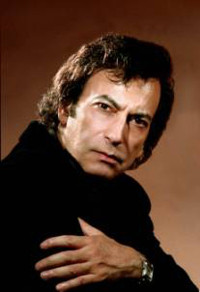 David Dubal
David Dubal began drawing at the age of five, and has continued to create art work throughout his life. "Of great interest to me is line drawing. I have done very many of these and frequently they stem from a live experience or a dream fragment. This I instantly translate to paper never stopping from beginning to end. They may be highly symbolic, sarcastic, humorous, with certain motifs reoccurring." Dubal works in many media in his painting. "Unlike the drawings, many of my paintings are non-objective abstracts, although I have produced many portraits of various types."
David Dubal is internationally known as a pianist, teacher, writer, broadcaster and one of the foremost American painters of our time. An acknowledged authority on the piano literature, Mr. Dubal's highly acclaimed books include The Art of the Piano, The Essential Canon of Classical Music, Evenings with Horowitz, Reflections from the Keyboard, and Conversations with Menuhin.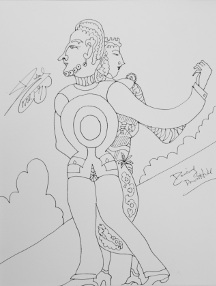 David Dubal - Dancing Downhill
Mr. Dubal has been a faculty member of The Juilliard School since 1983. He has performed in recitals and lecture-recitals in forty states, conducted master classes and lectured world-wide, and judged many international competitions, including the Van Cliburn International Piano Competition. Mr. Dubal received the Doctor of Music from the State University of New York (SUNY). Mr. Dubal's video, The Golden Age of the Piano, has been seen worldwide in four languages, and won him an Emmy award. His book "Remembering Horowitz," with 125 essays by world famous pianists includes a compact disc of Mr. Horowitz and Mr. Dubal in conversation.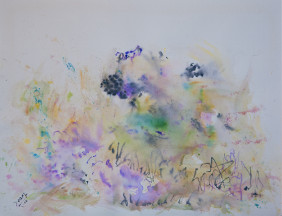 Painting by David Dubal
Recipient of the First ASCAP/Deems Taylor Award for broadcast journalism, Mr. Dubal has won numerous other honors, including the coveted George Foster Peabody Award for innovative broadcasting. He served as Music Director of WNCN in New York City from l967-90, and was also producer and commentator for innumerable special broadcasts. From 2000, Mr. Dubal has had a program "Reflections from the Keyboard" heard on WQXR.org world- wide (105.9 New York) and as well as "The Piano matters," a weekly program heard on WWFM.org highlighting the piano in comparative performance.
"Fantasy Flowers"

Claudia Slater
Lower Gallery
Tuesday, February 2– Saturday, February 27
Opening reception: Sunday, February 7, 1-4 PM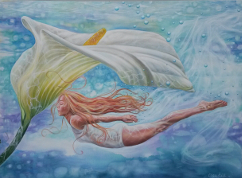 Basking Ridge resident Claudia Slater is a New Jersey self-taught multimedia artist born in 1949. Coming from a family of artists, at a young age she loved drawing people and was able to capture her subjects with striking accuracy. Her art consists mostly of flowers, portraits and recently has transitioned into fantasy.
She says of this exhibit: "I paint mostly large flowers and incorporate women in some, as the woman's form seems to fit with the flower. I love painting the delicate features of a woman as well as capturing the beauty of flowers. Had I my choice my apartment would be continually filled with vases of flowers".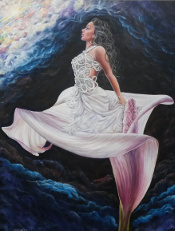 Miss Slater demonstrates a highly developed sense of color, composition and keen attention to detail. She captures the attention of observers through her dramatic style of painting. Her large paintings are now in acrylic although for her smaller work she sometimes uses water color. To achieve the smooth look to the skin on her portraits she uses layers upon layers of color washes. She and her family moved to Pennsylvania when her two children were in grade school. Their home had a storefront in which she sold hand painted items such as hat boxes, bird houses, furniture and paintings. She also taught art classes in her shop which covered an array of things from marbleizing techniques, hand-painted gourds to a two hour session of techniques for painting flowers which she developed over the years to teach even those who thought they had no creative abilities. She is currently retired and welcomes the time to paint and build her collection and gives several tours to local residents.
Upcoming Exhibitions
Congratulations to the winners of the
New Art Group Solo Show Competition
| | |
| --- | --- |
| Theresa Hood | January |
| Liz Mitchell | March |
| Marvin Cline | May |
The winners will be awarded a Solo Show in 2016, in our Lower Gallery during the month designated
Form for Exhibitors
If you would like to exhibit at the Watchung Arts Center, please download and complete the Exhibitor Agreement.
If you have any questions or comments, please contact Ludmila Kalivoda, VP Visual Arts, Watchung Arts Center, e-mail pruhonice@aol.com.