Gallery Hours:
Sunday and Monday: closed • Tuesday, Wednesday, Thursday and Friday: noon – 5 p.m.
Saturday: 10 - 3 p.m.
"Abstraction and Extraction" Photography Exhibit

Curated by Nancy Ori
Heinz W. Otto Gallery
Sunday, January 4– Saturday, January 31
Opening reception: Sunday,January 4, 1-4 PM
"Abstraction and Extraction is an exhibit of photographs by thirteen regional fine-art photographers. At the opening reception on January 4, some of the artists will talk about their work beginning at 2 pm.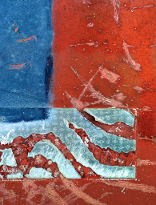 Nancy Ori, Torn Colors
The exhibit explores the differences between abstraction and extraction in photographic art. Abstract photography is non-representational and is usually combined with other images in a collage form, or manipulated with software to restructure the original image the way a painter or collage artist might create an abstract piece. The artist in this case is emphasizing lines, colors, and geometric forms, especially with reference to their relationship to one another by combining, in some cases, totally unrelated images or design elements to create the final piece.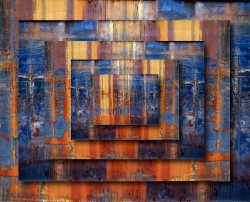 Charlann Melus, Starboard Plaid
Extraction in photography is the cropping or separation of a part of something from a whole subject in order to focus on the design of just a few elements and emphasize the beauty in the details and the essence of the original situation. These close-up images are documentary in style and also utilize the elements and principles of design to frame or crop a situation into its simplest form to create the final composition. In this case, the image is not manipulated other than to sharpen or enhance the existing colors or contrast.
This invitational show has been curated by Nancy Ori,
director of NJ Photography Forum and the Digital Arts Group. She says: "Abstract photography allows artists to move away from the larger narrative image to another place where perhaps nostalgia, fantasy, intimacy or a feeling of the familiar live. Extraction allows them to look and photograph more closely and to play with how light and time reveal unique compositions that go unnoticed in the larger scheme of life."
There are 38 pieces in the exhibit by photographers from around the region. They include: Marvin Cline, Warren; Paul Donohoe, Point Pleasant; Michael Endy, Westfield; Tom Hart, Bayonne
; Theresa Hood, Glen Gardner; Marv Kaminsky, Flanders; Charlann Meluso, Berkeley Heights; Charles Miller, Ringoes; Nancy Ori, Berkeley Heights; Don Sichler, Hoboken; John Singletary, Philadelphia; Tom Stillman, South Plainfield; Heidi Sussman, West Orange.
Form for Exhibitors
If you would like to exhibit at the Watchung Arts Center, please download and complete the Exhibitor Agreement.
If you have any questions or comments, please contact Ludmila Kalivoda, VP Visual Arts, Watchung Arts Center, e-mail pruhonice@aol.com.
"Transcience"

Curated by Caitlin Albright
Lower Gallery
Sunday, January 4– Saturday, January 31
Opening reception: Sunday,January 4, 1-4 PM

Caitlin Albright, Astral
This exhibit is an exploration in how artists evoke a sense of time or transformation in their work. The concepts they reflect on may involve, but are not limited to natural, physical, psychological, or emotional transformations. Though these moments of change are transient in nature, they may still be significant either on their own or as part of a larger event. What is captured in these works may reveal a sense of renewal, destruction, growth, or momentary stillness. It is an acknowledgment of the journey rather than the final destination.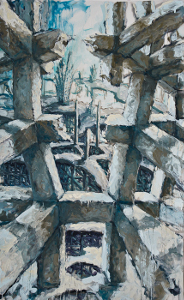 Marc D'Agusto Wall of Breath
Artists: Haris Ahmad, Caitlin Albright, Marc D'Agusto, Judy Mazzucco, Joel Tidey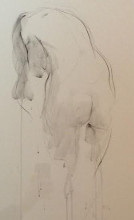 Joel Tidey Untitled