Gallery Hours:
Sunday and Monday: closed • Tuesday, Wednesday, Thursday and Friday: noon – 5 p.m.
Saturday: 10 - 3 p.m.
"Celebrate Art"

Artist Lisa Brown
Heinz W. Otto Gallery
Saturday, January 7– Saturday, January 28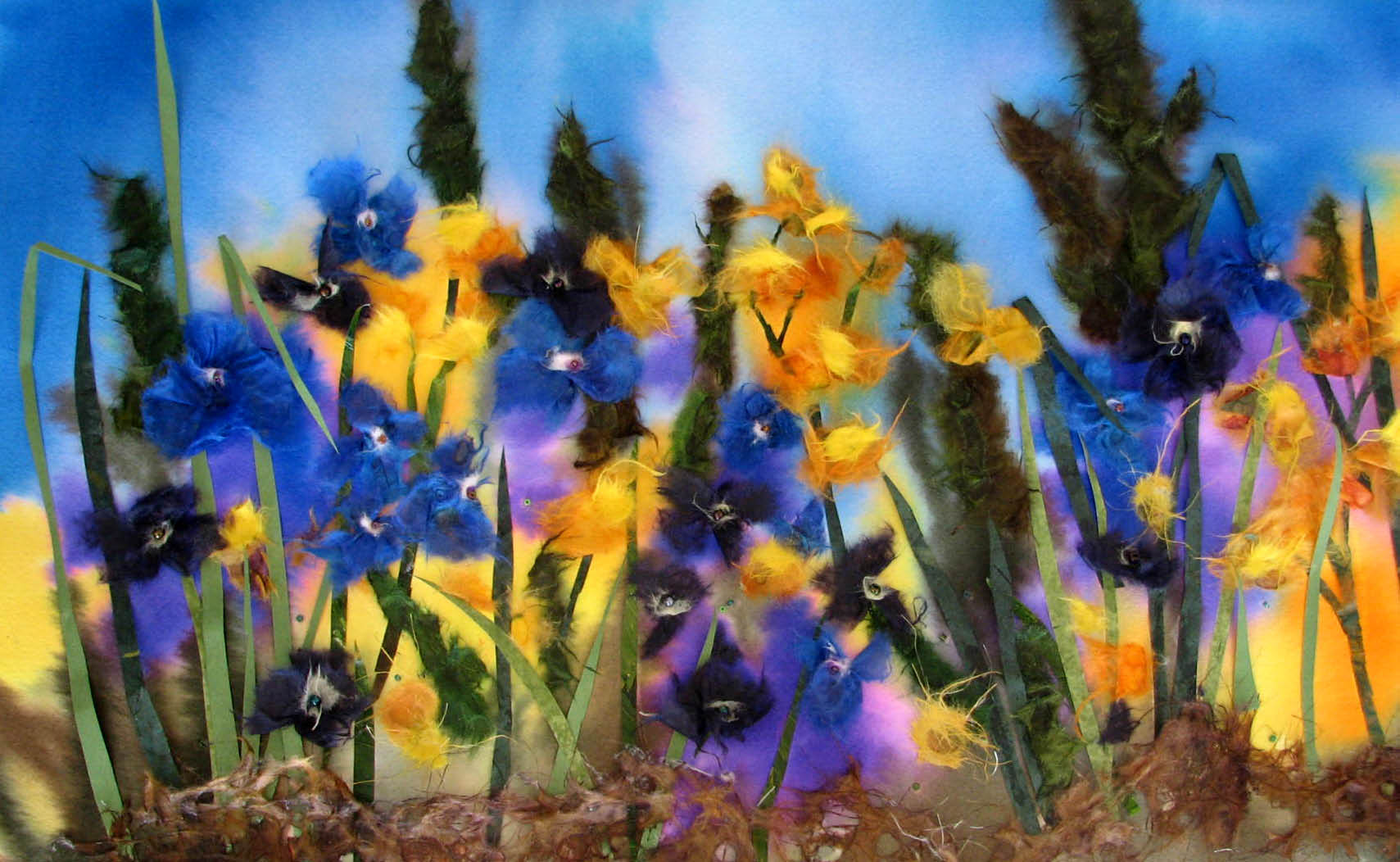 Lisa Brown My Secret Garden
The galleries of the Watchung Arts Center highlight the work of Watchung resident Lisa Brown, both as an arist and as an art teacher. The Heinz W. Otto Gallery will present "Celebrate Art", an exhibition of Lisa's own works. At the same time, the Lower Gallery will feature work by some of Lisa's adult students, while the walls of the Studio will showcase the talents of her younger students.
Lisa Brown is a local Watchung self-taught artist who has spent many years experimenting in mixed media while exhibiting and selling work in shows. While experimenting she has discovered unique methods that best express her passion for nature and a sense of fun. She has three distinct series: Her "Gardens of Hope" series brings you Spring gardens with it beauty, splendor and a feeling of Hope. Her "Children at Play" scenes are torn paper collages where children are enjoying life. Her "Texturescapes" are made of mixed media, textured papers, acrylics, and beads to create nature scenes with a sparkle.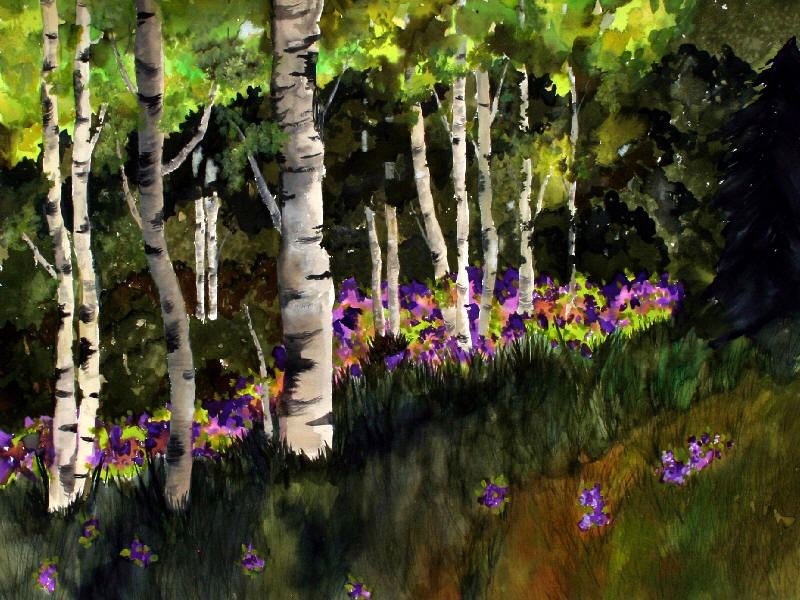 Lisa Brown Coming into the Woods
Lisa has dedicated her life in the belief that art is therapeutic and can help express emotions, relieve stress and suffering, and allow you to escape for a few hours. Towards that end she developed "art-as-therapy" workshops for those suffering with illness and adversity. She has a BA in Art, a MA in Creative Arts Ed. and is a certified east coast supervisor for Creative Journal Expressive Arts (a program which incorporates art with journaling). She has facilitated programs for support groups: (cancer, brain injured and bereavement) at the local hospitals, cancer centers, high schools, and (CEU's) colleges, as well as facilitating a variety of workshops in her studio. For more information:art-as-therapy.com
24th Annual Children's Juried Art Exhibition
Curated by Monica Schraiber Otero
Each year, the Watchung Arts Center holds a juried art competition for children, ages 6-17. The 24th Annual Children's Juried Art Exhibition was on display in our Studio from October 23 through Novermber 30. The exhibit recognizes the budding talents and creative potential of young artists. The mission of the show is to encourage artistic development in children by providing an opportunity for the display and appreciation of their work outside home and school. The WAC therefore, hopes to encourage the support of instructors, schools, and parents in our communities to promote student's participation in this exciting event.
The opening reception on Sunday, October 23 was very well attended. Relatives and friends admired the children's work and were mesmerized by the quality of the pieces created in such mediums as acrylic, oil, pen, pencil, watercolor, pastel, tempera,polymer clay and mixed media. The entries were judged by local artist, Virginia Carroll, and awards and prizes were given in five different categories.
View the winning entries here
"Celebrate Art"

Lisa Brown's Students
Lower Gallery / Studio
Saturday, January 7– Saturday, January 28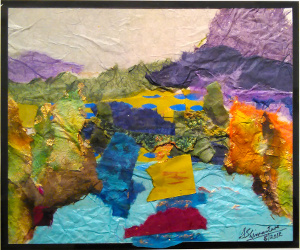 Shyamanandan Shrivastava - Montains of My Youth
The art displayed in the Lower Gallery was done by Lisa's adult students in workshops in her studio in Watchung. Lisa has been teaching adults for over 30 years in variety of media, as well as having special "art-as-therapy" workshops which she developed to work with those suffering adversity and pain (particularly bereavement groups, cancer survivors and their families, and those going through tough life changes).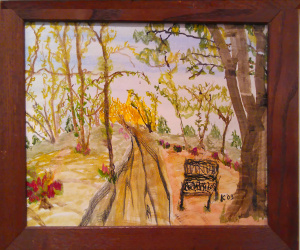 Sister Kathy Cairone - Come Sit
The painting shown above was mouth-painted by Sister Kathy Cairone, who lost the use of her arms and legs through MS Lisa has been helping Sister Kathy at McCauley Hall in Watchung for over 15 years by putting paint on the brush and inserting the brush into a mouth piece so she can paint any picture she wants. Sister Kathy has sold many pieces and also given many to those who support her life- the nurses, doctors, and friends.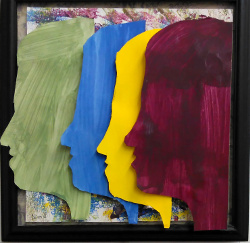 Nim Sten-Gilady - Face Me
Our Studio, next to the Lower Gallery, features some of the work done by Lisa Brown's younger students, such as the piece shown above.
Upcoming Exhibitions
February 1 - February 25, 2017
Opening' Reception, February 5, 1-4 PM
Heinz W. Otto Gallery
The Center for Contemporary Art - Members' Juried Exhibition

Lower Gallery
Charlann Meluso - Abstract Photography
Form for Exhibitors
If you would like to exhibit at the Watchung Arts Center, please download and complete the Exhibitor Agreement.
If you have any questions or comments, please contact Ludmila Kalivoda, VP Visual Arts, Watchung Arts Center, e-mail pruhonice@aol.com.