Gallery Hours:
Sunday and Monday: closed • Tuesday, Wednesday, Thursday and Friday: noon – 5 p.m.
Saturday: 10 - 3 p.m.
"Black and Blue" - The New Art Group
March 3 - 29
Opening Reception March 8, 1-4 PM
Heinz W. Otto Gallery
Beautiful blues with black silhouettes, fist fights and bruised bodies, blue skies, police and the military… you name it, Black and Blue can conjure up a lot of different images when you hear those words.
The New Art Group's exhibit, Black and Blue touches on these thoughts and more with each artist supplying their own interpretation of two simple colors and how they can work together. With media varying from photography and encaustic wax to assemblage and painting, these works touch on an exploration of these archetypal colors and the many subtler ways in which their combination has implications for the human condition.
Francesca Azzara brings the color black to the foreground, stating, "I look back now on my work…and view it as a visual tale of the ever changing state of my emotions and thoughts," while Heidi Sussman chose to create works that focus on the stark palette of blacks and blues. Sussman adds layers of textures to add deeper meaning to her mixed media pieces.
Jane Caminos relies on a heavy use of saturated color and recalls the influences of Matisse, Gauguin and Rousseau. For Mr. Pinkman, the blues and blacks represent the state of mind he has often found himself in and he uses those colors to express these feelings.
Susan Ahlstrom brings the symbolism of the colors forward – blue for sky and ocean and the black for night scenes and woods. The elements of travel and other places is very present in her mixed media work. Nancy Ori finds a similar theme but with a focus on natural objects and figures against the blue sky or water. She is working with the positive and negative spaces within her frame to establish strong compositions. We normally think of the black as being the negative space in artwork. Here she often uses it for the positive space and silhouettes her strong subject matter against the blue.
The current members of the New Art Group are Susan Ahlstrom from Stirling, Francesca Azzara from Westfield, Jane Caminos from Watchung, Nancy Ori from Berkeley Heights, Paul XO Pinkman from Plainfield and Heidi Sussman from West Orange. All are professional visual artists with many years of exhibiting and teaching experience. Visit their website for more info about other local exhibits or workshops being taught by the various members: www.newartgroup.com.
Form for Exhibitors
If you would like to exhibit at the Watchung Arts Center, please download and complete the Exhibitor Agreement.
If you have any questions or comments, please contact Ludmila Kalivoda, VP Visual Arts, Watchung Arts Center, e-mail pruhonice@aol.com.
"Landscape of Dreams" - Amy Evans, NAG Solo Show Competition
March 3 - 29
Opening Reception March 8, 1-4 PM
Lower Gallery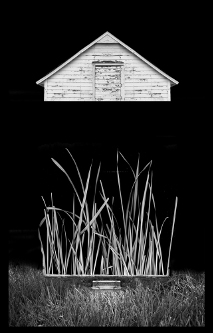 Amy Evans Landscape of Dreams 3
"The Landscape of Dreams" features the work of photographer Amy Evans, one of the winners of the New Art Groups recent Solo Show Competition.
The Landscape of Dreams series is a pictorial self-reflection that has its roots in the backdrop of rural New Jersey. As an artist, Amy Evans relies on her native environment for the foundation of her work. Whether taking direction from a farmer's field with perfectly aligned cornrows or the random design of discarded trash clinging to a chain link fence; New Jersey's ever-changing palette has a direct imprint on Evan's artistic process
With a Master of Arts degree in Studio Photography from Kean University, Amy has exhibited her works at many galleries throughout New Jersey and nationally, including New Jersey Landscapes at theGovernor's Mansion Gallery in Princeton, NJ in 2013; and the annual Signature Artists Exhibition, at the Noyes Museum of Art in Oceanville, NJ for the past several years.
In describing the exhibit, Evans says, "The themes in my work often draw a connection between the past and present by forging together both reality and fabrication. Using a mixture of real and imaginary characters, places and events; I spin elements forward and back, blending and rearranging the visualization to suite the imaginary ending I chose. Reality remembered and reinvented."
In creating her images, Evans uses both a camera and a flatbed scanner. "This combination of techniques poses interesting opportunities and limitations. Each image is captured separately and cataloged for future use. During the creative process I can fabricate, blend, and rearrange imagery into the visualization that I chose. This offers me a subtly different way of looking at my subjects: a perspective that can't be seen through a camera lens or the naked eye but invented by my imagination."
Upcoming Exhibitions
April 3 - 30
Reception Apri 19, 1-4 PM
Heinz W. Otto Gallery
Watchung Hills Regional High School
Lower Gallery
"A Painter, a Sculptor and a Cabinetmaker Walk Into a Bar..." - Dan Gordon