Gallery Hours:
Sunday and Monday: closed • Tuesday, Wednesday, Thursday and Friday: noon – 5 p.m.
Saturday: 10 - 3 p.m.
"Abstraction and Extraction" Photography Exhibit

Curated by Nancy Ori
Heinz W. Otto Gallery
Sunday, January 4– Saturday, January 31
"Abstraction and Extraction" is an exhibit of photographs by thirteen regional fine-art photographers. At the opening reception on January 4, some of the artists will talk about their work beginning at 2 pm.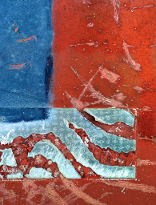 Nancy Ori, Torn Colors
The exhibit explores the differences between abstraction and extraction in photographic art. Abstract photography is non-representational and is usually combined with other images in a collage form, or manipulated with software to restructure the original image the way a painter or collage artist might create an abstract piece. The artist in this case is emphasizing lines, colors, and geometric forms, especially with reference to their relationship to one another by combining, in some cases, totally unrelated images or design elements to create the final piece.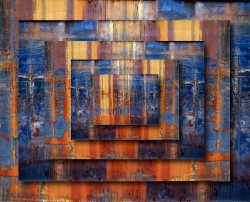 Charlann Melus, Starboard Plaid
Extraction in photography is the cropping or separation of a part of something from a whole subject in order to focus on the design of just a few elements and emphasize the beauty in the details and the essence of the original situation. These close-up images are documentary in style and also utilize the elements and principles of design to frame or crop a situation into its simplest form to create the final composition. In this case, the image is not manipulated other than to sharpen or enhance the existing colors or contrast.
This invitational show has been curated by Nancy Ori,
director of NJ Photography Forum and the Digital Arts Group. She says: "Abstract photography allows artists to move away from the larger narrative image to another place where perhaps nostalgia, fantasy, intimacy or a feeling of the familiar live. Extraction allows them to look and photograph more closely and to play with how light and time reveal unique compositions that go unnoticed in the larger scheme of life."
There are 38 pieces in the exhibit by photographers from around the region. They include: Marvin Cline, Warren; Paul Donohoe, Point Pleasant; Michael Endy, Westfield; Tom Hart, Bayonne
; Theresa Hood, Glen Gardner; Marv Kaminsky, Flanders; Charlann Meluso, Berkeley Heights; Charles Miller, Ringoes; Nancy Ori, Berkeley Heights; Don Sichler, Hoboken; John Singletary, Philadelphia; Tom Stillman, South Plainfield; Heidi Sussman, West Orange.
Upcoming Exhibitions
February 4 - March 1
Opening Reception February 8, 1-4 PM
Heinz W. Otto Gallery
New Perspectives curated by Rosalia Verdun
"New Perspectives" is a group exhibition featuring the artwork of seven New Jersey artists, each exploring a unique path in the visual arts. The seven talented artists are Rosalia Tignini Verdun of Roselle Park, Adrian Giuliani of Scotch Plains, Judy Lanfredi of Scotch Plains, Judith Leeds of Montville, Sandra Gelman Wolf of Short Hills, Grace and Michael Zambelli of Basking Ridge. Each artist's work offers a glimpse into a perspective of the world, capturing a thought, a mood or scene, through the use of pastel, painting, en plein air and collage.
Artists
Rosalia Tignini Verdun is an award winning artist, art instructor and former Fashion Designer who graduated from the fashion school of Lenac in Italy.
The contemporary and realistic artist works is in oil, pastel and acrylic. Her brush strokes and colors are executed with energy and emotions, revealing her artist knowledge and talent. Her romantic and warm native Italian cultural roots reflect on her portraits, still life and landscapes.
Verdun's studies began in Italy and continued when she came to New York and then New Jersey.
Rosalia had the privilege to meet and be mentored by the very famous Contemporary Italian Master painter, Pino Daeni, known all over the world for his colors and beautiful women portraits.
Her teaching credits includes: School of Visual Art, Summit N.J. where she learned portraiture and figure study while being the assistant to the art teacher-writer "Enrique-Flores-Galbis; the Montclair Museum N.J. where she studied portraits with Gaby Goodbee; and Studio Incamminati with Nelson Shank, Philadelphia PA and more.
Rosalia has frequently visited the Metropolitan Museum of N.Y. to learn the Old Masters' techniques. To get more in-depth experience, she applied to be a copyist at the Museum, copying "Boy blowing Bubbles" from the great European Master John Simeon Chardin in oil on linen canvas.
Verdun has received many awards, prizes, residencies and scholarships, including an "Award of Merit" at the Watchung Art Center Annual Members Juried Exhibition 2014, and "Premio Art Paris 2015" la Coupe Gorge France. One of her recent achievements was an acrylic still life demonstration in Villa Roma Resort Callicoon New York.
Rosalia's work has been shown in many galleries, both local and International, including N.Y, N.J, Italy, Greece and France.
For more information on Rosalia Tignini Verdun's artwork and events, please visit her web site: WWW.ROSALIART.COM. She can be contacted at rosav1017@yahoo.comis for painting and portrait commissions.
Rosalia maintains an online presence on Face Book, You tube, Linkedin, Instagram, Pinterest and Google +.
Adrian Giuliani was introduced to soft pastels by Flora Giffuni, the founder of the Pastel Society of America. As a teen she had the great fortune of studying with Flora. Her love for pastels continued at the Rhode Island School of Design, where she graduated with a BFA in Illustration. Today, Adrian is passionately enjoying her pastel work, accepting children's portrait commissions and frequently exhibiting. Her goal is always to capture an honest moment in time, creating portraits with energy, spirit and life. Adrian loves to paint portraits of children, because they are filled with expression and emotion. She is proud to be a Signature member of the Pastel Society of America, Pastel Society of New Jersey and the Alabama Pastel Society. She has won numerous awards for her work. Adrian was highly honored to have been juried into the Pastel Society of America 41st and 42nd Annual Exhibitions, "Enduring Brilliance" at The National Arts Club in NYC, with her pieces Jami Swimming II and The Life of an Artist. Her piece, Jami Swimming II, was featured in the UPenn, Frankly Penn blog, Who Knew? The Pastel Society of America. Adrian was extremely honored to have her piece, Childhood, selected for the IAPS 24th Annual Juried Exhibition at Vose Galleries in Boston last May. Her pastel paintings were also recently recognized, with awards in both Alabama Pastel Society and Pastel Society of New Jersey exhibitions. Adrian is available for portrait commissions and can be contacted for inquiries at adrianpastelportraits@gmail.com. You can see more of her art on her website at: www.adrianpastelportraits.com and on her art page at: www.facebook.com/adrianpastelportraits .
Judy Lanfredi graduated from Rhode Island School of Design with a BFA in Illustration. Since studying in Rome with RISD's European Honors Program, Italy continues to inspire and inform her paintings and collages. As a designer and illustrator of children's books including Sheep Dreams, Rhino & Mouse, Bono & Nonno, and the popular The Year You Were Born series, Judy's work received accolades from Publisher's Weekly, The Horn Book, and Parents Magazine. She has also illustrated adult book jackets, and received an award of excellence from the Art Director's Club of New York for her jacket illustration of Chuck Palahniuk's Lullaby. She currently devotes herself to her family, teaching art, painting and collage. She is the owner of Miss Judy's Art Class, an art enrichment program in the Scotch Plains/Westfield area. Judy's work can be viewed at www.judylanfredi.com. You can learn more about her art classes at http://missjudysartclass.blogspot.com and at https://www.facebook.com/MissJudysArtClass
Judith Kazdym Leeds is an internationally known award winning artist.
She has created almost 3,000 book jackets including many bestsellers such as THE COLOR PURPLE. Her work has appeared in numerous magazines around the world winning prestigious awards and medals. Judith was named by PRINT magazine, in its review of 40 years of design in America, as being a part of the elite group of American artists who had created the most innovative designs.
Judith has turned her talents to painting portraits, landscapes and still lives in both pastels and oils. Her efforts have been rewarded with many awards and medals including Best in Show three times from the Pastel Society of New Jersey.
In 2014 she was honored to be elected a Signature Member of the Pastel Society of America. In 2013 she was awarded an Honorable Mention from the Portrait Society of America and in 2012 she received the Audubon Artist's 70th Annual Silver Medal of Honor. Her work has appeared at the Slater Memorial Museum in Norwich Connecticut and is in the permanent collection of The Mayo Performing Arts Center, NJ. A full list of awards is available upon request. Judith has had five one-woman shows throughout Northern New Jersey as well as given demonstrations and workshops.
Working in both pastels and oils, Judith's art reflects her up-beat and colorful view of the world around us. "I especially love painting people in their personal comfort zones. People have their lives etched into their faces. To me that's true beauty. It's the intimate moments that define a life and I try to capture these fleeting impressions in my paintings."
Judith graduated cum laude from Boston University's School of Fine Arts. She served for 6 years on the Executive Board of Directors of the Pastel Society of New Jersey as their Program Director.
Her work can be found in both public and private collections. judyleeds@optonline.net, (973) 257-9680, www.judithleeds.com
Sandra Gelman Wolf earned a BA from the University of Pennsylvania and a JD from the University of Chicago Law School. She practiced securities law at two major New York City law firms before becoming a stay-at-home mom, an active community volunteer, and an artist. Sandi paints landscapes, seascapes, still-lives and abstractions in oil and pastel. She works in a somewhat impressionistic style and always strives to convey and evoke a mood. "I prefer subtlety over detail, suggestion rather than an exact depiction, and a hint instead of an overworked statement." Her art has been featured in numerous shows, including a solo showing of her oil paintings, "First Show" at the Summit Public Library; the "Gaelen Juried Art Show and Sale" in Whippany; "The Mentor Program" exhibition and other shows at the Paper Mill Playhouse in Millburn; "Pastel and Painting Students of Anne Kullaf" at the Visual Arts Center of New Jersey; "Five Perspectives," a group show at the Scotch Plains Public Library, and on the cover of "The Showcase" magazine. She was also honored to be a donor artist for the 2014 "For Art's Sake" benefit at the VACNJ. Sandi is also a member of the Pastel Society of New Jersey. Sandi is happy to accept commissions, as well as to show her completed works by private appointment. She may be contacted via email at sfgwolf@comcast.net www.sandrawolfart.com
Grace Zambelli, Ph.D., A.T.R.-B.C. is a NJ Licensed Psychologist and an Art Therapist who has keen interest in art, psychology and helping others. Over the past thirty years, she has melded a professional career and a personal life that have combined these passions. Starting with BA degree from the College of New Jersey in Art Therapy and Psychology, she has used art to develop art therapy programs to help bereaved children and their families cope with death and loss. Grace also has a Ph.D. in Child Clinical Psychology from Seton Hall University. She has authored numerous articles and several training manuals about the use of art and creative methods to positively facilitate the grieving process. Art making as therapeutic modality has been a primary way for her to work with children in private practice.
As an artist, Grace uses acrylics to capture the mood and nuances of everyday life. Her work in the bereavement field has propelled her to create work that affirms the consistent, positive details that are often overlooked in one's hectic, sometimes overwhelming life. She enjoys capturing many of these moments in the scenery and people of South Jersey.
Grace is an Associate Artist at Noyes Museum and a member of the New Jersey Pastel Society. Grace has won awards for her paintings at various venues throughout the state. Her paintings have been exhibited at numerous institutions in New Jersey including the Visual Arts Center of NJ, Ocean City Arts Center, the Noyes Museum, the Watchung Arts Center, the Center for Contemporary Art, the Great Bay Art Gallery, the TCNJ Art Gallery and the Art on Asbury Gallery. Contact Grace at gzambelli@optonline.net – www.graceandmichaelzambelliart.com
Michael Zambelli has been drawing for most of his life. His lifelong fascination with drawing automobiles led to a career in Industrial Design earning a BSID degree from the University of Bridgeport. Throughout his 35 plus years of designing consumer products, he always maintained his interest in the fine arts visiting museums and galleries throughout the US, Europe and the former Soviet Union with the intention of creating art someday in the back of his mind.
In 2011, he began painting in acrylics for the first time in his life. He has participated in workshops at the Center for Contemporary Arts in Bedminster and the Visual Arts Center in Summit, NJ. His paintings have been exhibited at juried and members show at both centers. In 2013, he was accepted as an Associate Artist (emerging artist) at the Noyes Museum in Oceanville, NJ. He is a member of the Ocean City Fine Arts League (OCFAL) where he has received numerous awards for his paintings. In 2014 Michael received an "Outstanding Acrylic Award" award for his painting "Chef King" in the national online BoldBrush Painting Competition. Michael also received a Best in Show award from the Visual Arts Center of NJ for his painting "At the End of the Day" in 2014.
Most of his paintings focus on artifacts of the 20th century including interesting products, toys, automobiles and structures in urban landscapes. His primary objective is to capture the emotional aspects of these artifacts. Most of his images emphasize the play of light and shadow that not only help define the object's form, but also conveys the mystery, history or the sense of sadness that is often missed by the casual observer. Contact Michael at mzambelli53@gmail.comwww.graceandmichaelzambelliart.com
"Transcience"

Curated by Caitlin Albright
Lower Gallery
Sunday, January 4– Saturday, January 31

Caitlin Albright, Astral
This exhibit is an exploration in how artists evoke a sense of time or transformation in their work. The concepts they reflect on may involve, but are not limited to natural, physical, psychological, or emotional transformations. Though these moments of change are transient in nature, they may still be significant either on their own or as part of a larger event. What is captured in these works may reveal a sense of renewal, destruction, growth, or momentary stillness. It is an acknowledgment of the journey rather than the final destination.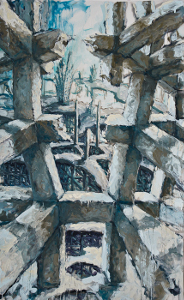 Marc D'Agusto Wall of Breath
Artists: Haris Ahmad, Caitlin Albright, Marc D'Agusto, Judy Mazzucco, Joel Tidey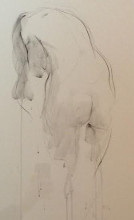 Joel Tidey Untitled
Upcoming Exhibitions
February 4 - March 1
Opening Reception February 8, 1-4 PM
Lower Gallery
Milena Filipova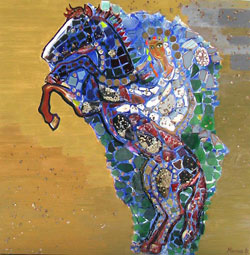 Milena Filipova Horse
Milena Filipova A native of Bulgaria, Jersey City based artist, Milena Filipova, has dedicated her life to studying and producing art. As a young prodigy, she studied with famous artists in Bulgaria while winning national and international exhibitions. Later she attended the National School of Fine Arts in Sofia,Bulgaria where she won a scholarship to attend the Maryland Institute, College of Art in Baltimore. There she was exposed to the Modern American Art. Experimentation was the next next stage of her evolution as an artist. In 2000 Milena entered the Tyler School of Fine Arts Masters Program. There she won an international grant allowing her to study at the Rome campus for one year. The second year brought her to Philadelphia where she completed her MFA degree. Milena has studied with famous artists such as Raul Middleman, Paul Moscatt, Dona Nelson to name just a few. All these artists influenced her. She borrows as much as she can from various artists and adds her own fraction of originality. She expresses herself in a language that is forceful and poetic, rich and exciting , so that all can understand it. Milena's work is distinguished mostly through its narrative figurative quality. Milena has participated in many representative exhibitions of Bulgarian art all over the world. She has also had solo and group shows in Bulgaria.