Gallery Hours:
Sunday and Monday: closed • Tuesday, Wednesday, Thursday and Friday: noon – 5 p.m.
Saturday: 10 - 3 p.m.
Robert Harnick: "Celebrating 95 Years"
September 6 - September 29
Lower Gallery
Opening Reception September 11, 1 - 4 PM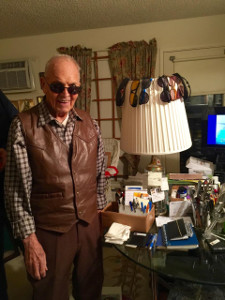 Robert Harnick, in his home studio
Born in the early 1920's and still "roaring" to go, Robert Harnick will be enjoying his 95th birthday this September. Bob will celebrate the occasion with an exhibit of his work in the Lower Gallery. The exhibit will feature his early work from decades past, as well as a focus on his energizing output from more recent years. It may be that the life he brings to his canvas is the secret to his own longevity, or at the very least its quality.
"I enjoy creating artwork that I can share and give as gifts to other people. It brings me joy and I hope others will share in this visual pleasure." In that spirit, Bob and his family will be donating all sales proceeds to the Watchung Arts Center.
Bob was born on a farm in Caldwell, New Jersey. At the age of two he was blinded in one eye in a firecracker accident and he has viewed the world with a unique perspective ever since. His family then moved to Seagate, a section of Brooklyn, N.Y. where he spent most of his childhood and met his wife Sherry. Bob studied aeronautical engineering and geology at the University of Alabama and continued his studies at NYU, Fordham and Columbia.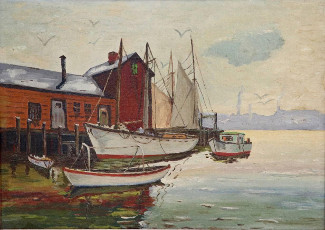 Robert Harnick - Sailboat at Dock - 1940's Oil
Heeding his country's call during the Second World War, Bob enlisted in the United States Army. Due to his visual impairment, he contributed to the effort stateside, as a sergeant in charge of sending radio transmissions to the allies overseas. His mother henceforth considered his partial blindness a blessing in disguise, as he was spared when his entire battalion was lost in the Battle of the Bulge.
At the conclusion of the war, Bob followed an artistic, though decidedly practical pursuit as a commercial lithographer, establishing Golden Arrow Graphics in the printing district of downtown Manhattan. This remained his field of interest for the next 50 years, printing and designing for corporate clients such as Eastman Kodak, as well as classified work for the US government.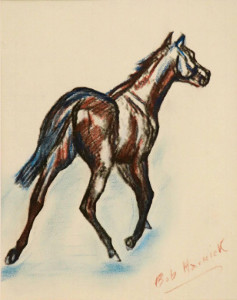 Robert Harnick - Horse - pastel 2016
Never one to stagnate, over the years Bob found contentment in a remarkably diverse collection of activities such as painting, photography, sailboat racing, flying a plane and going on pacer hunts. He loved horseback riding so much that he spent his weekends in the 1950's as an auxiliary policeman on horseback in Central Park, N.Y. In the 1990's when he retired, he volunteered giving tours in McArthur's Park, a nature preserve in Florida. Bob lived in Watchung for 25 years and currently resides in Basking Ridge, New Jersey.
Bob's artwork reflects his many interests throughout his life. The art exhibit will feature his love of nature and animals.
Upcoming Exhibitions
"Retrospective - Black & White Images
1947-1959"
by Ross Wagner
October 4 - 29
Opening Reception October 16, 1-4 PM
Heinz W. Otto Gallery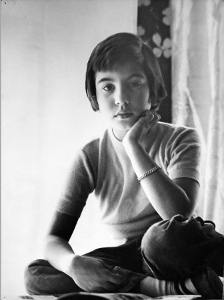 Photo by Ross Wagner Harriet Reisen 1953
At the age of 14 in the spring of 1947, Ross Wagner photographed his father with a primitive camera.. The resulting image, 'Exploring the World', won a first prize in Scholastic Magazine's annual contest and became a cover photo for the magazine. This photo will be featured in the exhibit.
Thus launched, Ross was rarely seen without a camera. The photographs shown in this retrospective include notables as Ralph Vaughan Williams, the British classical composer; David Oistrach, Russian violinist; Ilya Bolotowsky, American abstract artist; Claudio Arrau, Chilean concert pianist and others. Three photographs made in a rainstorm of an industrial area in Newark from a moving train fill another wall. The image of 'Harriet', a portrait in situ shown here, is a personal favorite of Ross'.
Most prints are original, made the old-fashioned way...in a 'wet darkroom'. Black and White, of course.
A resident of Summit, Wagner is the founder and facilitator of 'The Unique Vision Photography Workshop' which meets monthly at the Watchung Arts Center. The workshop is a meeting place for photographers, at all levels of proficiency, to seek for themselves and to validate for others the clearest visual expression of their deepest connection with the world.
24th Annual Children's Juried Art Exhibition
Curated by Monica Schraiber Otero
Studio
Opening Reception, Sunday, October 23, 1:00 - 2:00PM
24th Annual Children's Juried Art Exhibition recognizes the budding talents and creative potential of young artists. The mission of the show is to encourage artistic development in children by providing an opportunity for the display and appreciation of their work outside home and school. The WAC therefore, hopes to encourage the support of instructors, schools, and parents in our communities to promote student's participation in this exciting event.
Open to all New Jersey residents ages 4 – 17 years old. Download the flyer here.