Gallery Hours:
Sunday and Monday: closed • Tuesday, Wednesday, Thursday and Friday: noon – 5 p.m.
Saturday: 10 - 3 p.m.
"Connections XVIII" - Unique Vision Workshop
curated by Katherine Wagner
October 4 - 29
Heinz W. Otto Gallery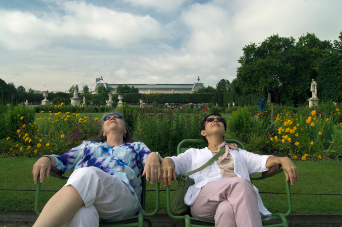 Photo by Miguel Urosa
The Unique Vision Photography Workshop encourages photographers to search for their deepest connection with the world. Each photographer finds one's path to what is Unique in one's vision.
Thus visitors to the exhibit will enjoy viewing a wide variety of work. Subject matter ranges across five continents.
The photographers are: Jim Ting, Darren Ting (Jim's 17-year-old son), Sherman Feller, Ray Yaros, Tom Stillman, Bryan Murray, Joan Shyers, Tom Dacktow, Miguel Urosa and Ross Wagner.
Call For Entries: New Jersey Photography Forum
22nd Annual Juried Photography Exhibit
Curated by Nancy Ori
Receiving Entries, Saturday, October 29, 1:00 - 4:00PM
Opening Reception, Sunday, November 6, 1:00 - 4:00PM
Photographers and mixed media artists using photography are invited to submit works to be considered for exhibition at the 22nd Annual Juried Photography Exhibit of the New Jersey Photography Forum. The exhibit is open to any photographer able to hand deliver their work to the Watchung Arts Center at 18 Stirling Road on the Circle in Watchung, NJ 07069 on Saturday, October 29th from 1-4 PM.
The cost is $20 for every two photographs entered. There is no limit to the number of entries; however, all entries must be professionally presented and securely wired for hanging. Each finished work can be no wider than 45 inches including frame. No clip frames or clips holding the wire will be accepted. Images that have been previously exhibited at the Watchung Arts Center may not be entered. Black frames and white mats are preferred. Any piece larger than 20x24 should have plexiglass and a sturdy frame. More information about submission requirements is available at www.njphotoforum.com.
There will be cash awards for Excellence ($100) and Merit ($50) determined by the jurors. All work should be available for sale. All sales will be handled by the Watchung Arts Center who will receive a 30% commission to support the arts center.
Awards will be presented at the Opening Artists' Reception on Sunday, November 6. The exhibit viewing and artists reception is free and open to the public. Selected artists will speak about their photographs at the reception.
The jurors of the exhibit are: Brian McCormack: Gallery Owner/Director of Hamilton Gallery in Bound Brook, Photographer, Graphic Designer, and Musician; Katie Murdock: Assistant Curator at the Visual Arts Center of New Jersey in Summit where she has worked on over thirty group and solo exhibitions and organized over 50 community art exhibitions, and curated shows throughout Northern New Jersey; and Nancy Ori: fine art exhibitor, seasoned curator, freelance photographer and educator; director of NJ Photography Forum and Digital Arts Group; owner of NJ Media Center in Berkeley Hts.
The New Jersey Photography Forum is dedicated to furthering the interests of professional and serious photographers living or working in the New Jersey area. Over the past 22 years under the direction of Nancy Ori, the NJPF has become the largest and most recognized group of fine art exhibiting photographers in the state.
The monthly meetings are held at the Visual Arts Center of New Jersey in Summit; attendees are encouraged to share expertise and advance their skills. The meetings provide access to a wide variety of current creative and technical information through informal presentations, critiques and demonstrations by manufacturers and photographic artists. Exhibition possibilities within the fine art community are constantly explored, which has become an invaluable resource for photographers interested in becoming fine art exhibitors. For more information, go to www.njphotoforum.com or call Nancy Ori at 908-790-8820.