Gallery Hours:
Sunday and Monday: closed • Tuesday, Wednesday, Thursday and Friday: noon – 5 p.m.
Saturday: 10 - 3 p.m.
The Students of Watchung Hills Regional High School
April 3 - 30
Opening Reception April 19, 1-4 PM
Heinz W. Otto Gallery
Watchung Hills Regional High School students and faculty will present an exhibit from more than 60 of the High School's young artists.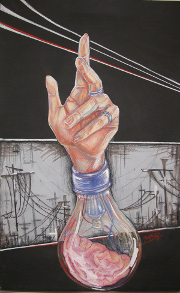 Kim Chao - Ideas in Action
Photography, painting, drawing, jewelry, sculpture, ceramics and digital illustration will be highlighted. This exhibit will showcase the wide range of content the Visual Arts Department students have produced this year. Many students are pursuing Art careers while others are focusing on a variety of careers including architecture, the sciences and business.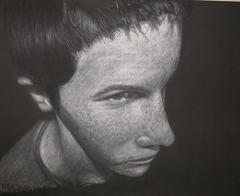 Samantha Snyder - Brother
Among the artists whose works will be exhibited are these students, who were awarded prizes at the duCret school of Art Annual High School show in February 2014:
Kim Chao - 1st Place Mixed Media
Samanth Snyder - 3rd Place Charcoal
Upcoming Exhibitions
May 1 - May 30
Opening Reception May 3, 1-4 PM
Heinz W. Otto Gallery
The Contemporary Art Group
9th Annual Members' Show
The Contemporary Art Group is a non -profit, collegial organization of working artists who meet on a regular basis at Watchung Arts Center and exhibit their work together. This juried show will feature the work of 43 of its artist members.
Participating artists include : Francesca Azzara, Bess Birrell, Millicent Brody, Ruth Brown, JoyAnn Cabanos, Virginia Carroll, Andrew Commarano, Michael Endy, Maryann Ficker, Diane Gallo, Brooke Gardiner, Mel Holston, Terri Hood, Maxine King, Avi Kiriakatis, Constantine Kiriakatis, Don Kuhn, Linda Lam, Ed Lara, Sheilia Lenga, Lane Lewis, Tracey Luckner, Gerd Mangels, Thomas Martin, Margaret McCrary-Anderson, Charlann Meluso, Charles T. Miller, Kathy Nademus, Ghanshyam Patel, Tom Perri, Rene Post, Doris Prial, Eugene Prial, Sharon Reed, Linnea Rhodes, Monica Schraiber Otero, Bob Sharen, Dorothy Siclare, Cecilly Sullivan, Barbara Uhr, Rosalia Verdun, Cynthia Weiss and Gail Winbury.
CAG is a supportive group where there is mutual respect among members, where members exchange ideas, provide information about exhibit opportunities and share their own artistic development. More information about Contemporary Art Group can be found at contemporaryartgroup.org .
Form for Exhibitors
If you would like to exhibit at the Watchung Arts Center, please download and complete the Exhibitor Agreement.
If you have any questions or comments, please contact Ludmila Kalivoda, VP Visual Arts, Watchung Arts Center, e-mail pruhonice@aol.com.
"A Painter, A Sculptor and A Cabinetmaker Walk Into a Bar" - Dan Gordon
April 3 - 30
Opening Reception April 19, 1-4 PM
Lower Gallery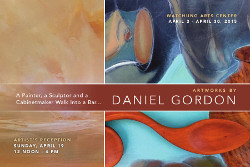 Dan Gordon
The title of artist Dan Gordon's latest show, "A Painter, A Sculptor and a Cabinetmaker Walk into a Bar….", although it is in the form of an old joke, speaks to the various hats the artist wears to create a piece of art.
This Watchung Arts Center show is timely and exciting because it features a group of pieces that succeed in balancing the mediums of wood and paint through which Dan Gordon achieves his ideas. The wood often provides the bones and warmth, the paint is the muscle and motion, and the overall sculptural quality feeds the brain's need to pull all the elements together, forming a cohesive thought. The work is infused with Gordon's day to day experience as an artist, woodworking teacher and cabinetmaker.
A graduate of Drew University, Mr. Gordon is essentially self-taught in the mediums of inlay/marquetry, paint and carving, but gained valuable experience working alongside some of the world's finest artisans, including New Jersey furniture makers Glen Guarino and Frank Pollaro.
While working with Pollaro, among a wide variety of furniture building and creative activities, he had the opportunity to help develop and execute designs for a Steinway grand piano honoring master pianist Roger Williams. On another project, Gordon worked closely with Jim Henson's original creative director to build marquetry panels that honored Jim's earliest creations.
23rd Annual Children's Juried Art Exhibition
Studio
Sunday, May 31– Saturday, June 27
Opening Reception: Sunday, May 31, 1 to 2 p.m.
23rd Annual Children's Juried Art Exhibition recognizes the budding talents and creative potential of young artists. The mission of the show is to encourage artistic development in children by providing an opportunity for the display and appreciation of their work outside home and school. The WAC therefore, hopes to encourage the support of instructors, schools, and parents in our communities to promote student's participation in this exciting event.
Open to all New Jersey residents ages 4 – 17 years old. Download the flyer here.
Upcoming Exhibitions
May 1 - May 30
Opening Reception May 3, 1-4 PM
Lower Gallery
Stephen Rushefsky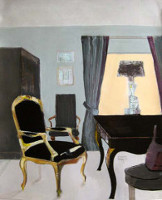 Stephen Rushefsky Blue Room
"Drawing/Painting Layers" features the work of artist Steven Rushefsky, one of the winners of the New Art Groups recent Solo Show Competition.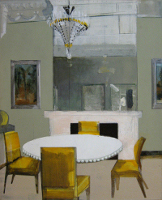 Stephen Rushefsky Green-Gray Room
Steven Rushefsky orchestrates a give-and-take between drawing and painting, as he populates his canvases with figures, interiors, gardens and architecture. Inspired by the formalism of the Italian Renaissance, and the visual delight of Edgar Degas and Helen Frankenthaler, he brings an at-times studious, at-times playful and always modern perspective to what are traditionally tightly drawn subjects.
Rushefsky begins each work by laying pencil to paper. As he applies the first layers of thin paint, it mixes with the graphite tones, adding depth to the color. He continues drawing in pencil on top of the paint, which gradually gets thicker and more opaque. This layering of pencil and paint continues throughout the process, culminating in paintings with rough-hewn features contrasted with staccato detail.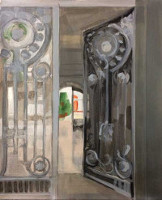 Stephen Rushefsky Paris Doorway
He graduated from Binghamton University with a degree in Studio Art, with a focus on drawing.
He received an Award of Merit in "Arizona Aqueous" (2014), and the Curator's Third Place award in the "NJC: Works on Paper" exhibit (2013). His work has appeared as part of group exhibitions in New York, New Jersey, Virginia, North Carolina, Oregon, Arizona, California and Puerto Rico. His ceramic work has been published in Ceramics Monthly, and his editorial illustrations have been published in Tikkun Magazine. You can enjoy additional examples of his work at www.stevenru.com