WAC offers a variety of classes and workshops for children and adults.

Children's Summer Art Camp
The 4th week of Summer Art Camp has been canceled.
Under the direction and instruction of Mrs. Monica Otero, Art Camp is a three-week program during the month of July for ages 6-12. Focusing on Creativity, Imagination and Ingenuity, Art Camp offers children a unique opportunity to acquire or improve artistic skills, learn new techniques, explore different media and get inspired by famous artists. All, while having fun! Surrounded by the beauty of the Watchung Mountains, students appreciate both Art and Nature as they draw and paint outdoor scenes and have picnic lunches at Best Lake. Free T-Shirt for all campers.
New 2017 Central Theme: The World and All its Colors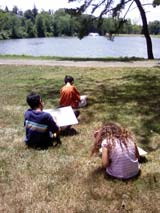 Students will discover different art forms from various continents including Europe, the Americas, Asia, Africa and Oceania. Japanese prints, dream catchers, pottery, Chinese lanterns, ceremonial masks, totem poles, pieces inspired by master artists or ancient civilizations are just some of the projects in this exciting multicultural experience! Themed creations will vary each day as participants learn about the peoples and their languages as well as regional landscapes, landmarks, flora and fauna.
Workshops in different disciplines are scheduled throughout the week. Students draw using wet and dry media, sculpt with air-dry clay, paint, build structures using recycled materials,prints, collages and much more
Final Exhibition — Art Camp culminates with a student show in the Lower Gallery featuring works from all three cycles. Relatives and friends are welcome to attend the opening reception. Date TBA.
Three cycles, Monday through Friday 10 a.m. - 3 p.m. (please bring a bag lunch).
Cycle I: July 10 – July 14
Cycle II: July 17 – July 21
Cycle III: July 24 – July 28
Cycle IV: July 31 - August 4, 9 a.m. - 1 p.m. (CANCELED)
Class fees: All three cycles (recommended for a complete experience!), $255/cycle ($132 discount); any two cycles, $270/cycle ($58 discount); single cycle, $299.
Early Bird Discount: $15 for registrations received by June 20, 2017. Download the registration form or register online at Eventbrite.
Instructor: Mrs. Monica Schraiber Otero.
All Children's Theatre —
Performing Arts Day Camps Marks 22nd Year at the WAC - August 14-25
"ACT" — the very descriptive acronym for All Children's Theatre — will return to the WAC for its 22nd season in August! The well-known and highly acclaimed Performing Arts Day Camps for boys and girls ages 6 to 17 "playingly" lives its motto "Where Every Child Is A Star."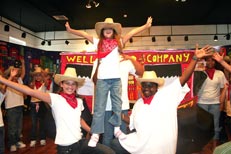 The Creative Dramatics Camp is geared for children who want to create, develop, write and perform in their own show. The Broadway Kids Camp gives kids various facets of the theatrical experience. They learn about singing along with acting and dancing using music from a variety of Broadway musicals from the Rogers and Hammerstein classics to more contemporary shows such as "Grease" and others.
All Childrens Threatre give children an opportunity to put together theatrical productions from rehearsal and make-up to modest scenery painting and performing. The program begins with Creative Dramatics Camp, July 31- 11, followed by Broadway Kids Camp, August 14 - 25. Camp run for two weeks, and ends in dress rehearsals and evening performances in front of a live audience in the Upper Gallery on the last day of each camp.
For program details or to download a day camp registration form, go to www.allchildrenstheatre.org, or call their office at (973) 335-5328.
24th Annual Children's Juried Art Exhibition
Curated by Monica Schraiber Otero
Each year, the Watchung Arts Center holds a juried art competition for children, ages 6-17. The 24th Annual Children's Juried Art Exhibition was on display in our Studio. The exhibit recognizes the budding talents and creative potential of young artists. The mission of the show is to encourage artistic development in children by providing an opportunity for the display and appreciation of their work outside home and school. The WAC therefore, hopes to encourage the support of instructors, schools, and parents in our communities to promote student's participation in this exciting event.
The opening reception on Sunday, October 23 was very well attended. Relatives and friends admired the children's work and were mesmerized by the quality of the pieces created in such mediums as acrylic, oil, pen, pencil, watercolor, pastel, tempera,polymer clay and mixed media. The entries were judged by local artist, Virginia Carroll, and awards and prizes were given in five different categories.
View the winning entries here